Top Questions About Chandeliers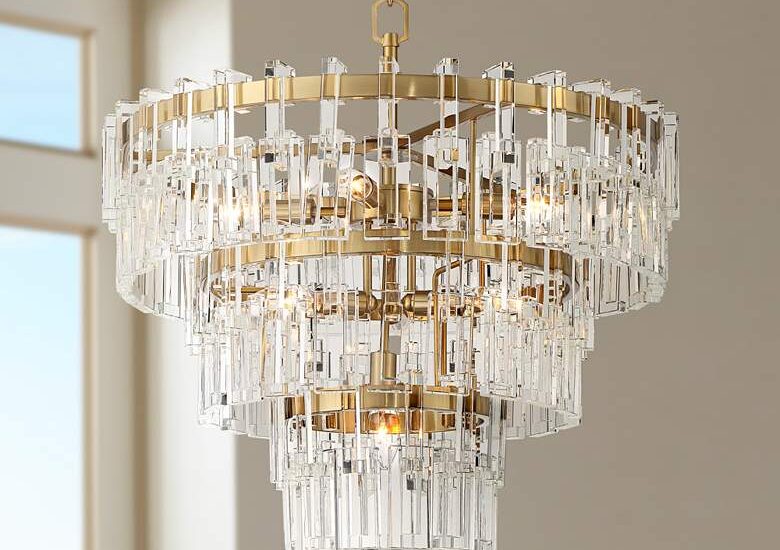 Here are some of the top questions about chandeliers that we get asked about!
What's the difference between a chandelier and a pendant light?
Chandeliers and pendants are both types of hanging lights, and may seem similar at first glance. However, there are a couple of key differences between the two! Pendants usually use only one bulb, and you will often see multiple pendants in one room. They also use shades to channel the light, as opposed to chandeliers which use many exposed bulbs to spread ambient light throughout a room.
Where can I find crystal chandeliers?
Lamps Plus has a wide selection of crystal chandeliers from a variety of brands in an assortment of styles. From Crystorama to Stiffel to Swarovski, you are certain to find the perfect crystal chandelier for your home. For more information on how to select the right chandelier for your home, check out our in-depth buying guide here.
Browse our complete collection of crystal chandeliers here.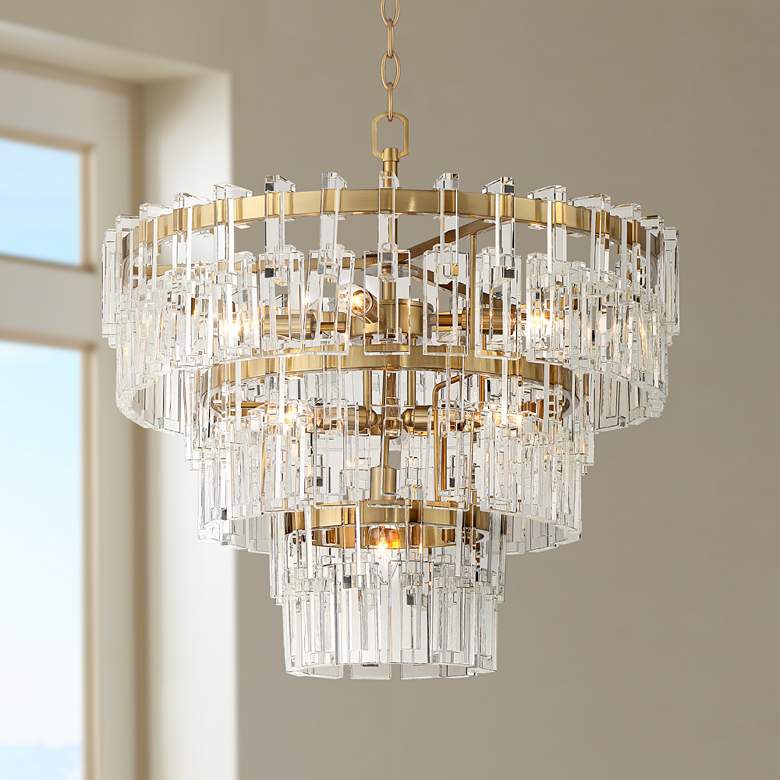 Do chandeliers use more electricity than other lighting fixtures?
Although chandeliers usually use more light bulbs than other types of lighting fixtures, you do not need to worry about a rise in your electricity bill! Chandeliers are usually not used as often as other lights in your home, and usually do not need higher wattage bulbs as they use multiple bulbs in conjunction. Also, many chandeliers are able to use LED bulbs, lowering the amount of electricity needed even further.
Why doesn't my crystal chandelier sparkle anymore?
One of the main draws of a crystal chandelier is their sparkle! But crystal, like any other type of glass, can get dirty or pick up dust. If you notice that your crystal chandelier has lost some of its luster, it might be time for a cleaning. You can clean the crystals while they are still hanging on the chandelier, or remove them for a deeper clean. There are a variety of crystal cleaning solutions and sprays out there, but many cleaning supplies may already be in your home!
For detailed information on how to clean crystal chandeliers, check out our in-depth article here.
How can I remove rust from a metal chandelier?
This is another top question about chandeliers that we are asked. No matter where you live, rust is always a concern when using metal fixtures. Cleaning rust from metal can be fairly easy and the material can often be found already in your home.
The acid in ordinary white vinegar can break down rust without damaging the metal of the fixture. Try spraying some white vinegar on the rusted spots, then following up with a sponge or microfiber cloth. Avoid using rough materials, such as steel wool, as it could scratch the finish on fixtures like gold chandelier designs.
There are also commercially available rust cleaners, such as CLR, that can be used on chandeliers.
What is the total wattage allowed for a chandelier?
Modern chandeliers come in a wide range and there is no one standard of maximum wattage for chandeliers. To determine the total wattage allowed for a specific chandelier, take a look at the recommended bulbs.
Simply multiply the bulb's wattage by the number of bulbs to see the chandelier's maximum total wattage. If a chandelier can use LED bulbs, then the total wattage will be much, much lower!
Are Sputnik Chandeliers Really Considered Globe Chandeliers?
Sputnik chandeliers are a subset of chandeliers defined by a particular space age design aesthetic. Named after the Soviet Sputnik satellite, featuring a memorable shape consisting of a solid ball with trailing lines, Sputnik chandeliers tend to loosely spherical shapes with spires extending outwards from the center, ending in halogen or led bulbs.
Many Sputnik chandeliers can also be considered globe shaped chandeliers and pendant lights! Many Sputnik fixtures feature a spherical shape, or feature the traditional Sputnik design housed within an outer globe. In these cases, items can be both Sputnik and globes.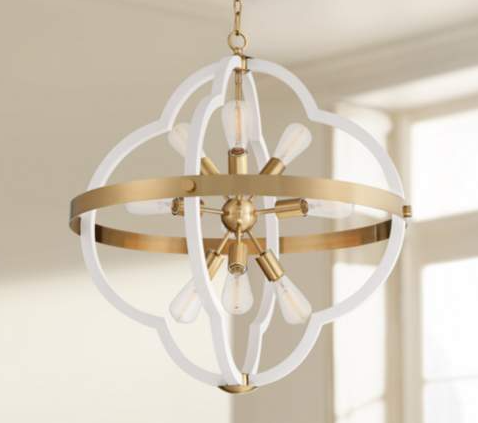 More Chandelier Ideas and Advice
Explore more questions about chandeliers with the links below, or browse our complete collection of chandeliers here.
A Guide to Crystal Chandelier Glass