3 Simple Tips for Kitchen Organization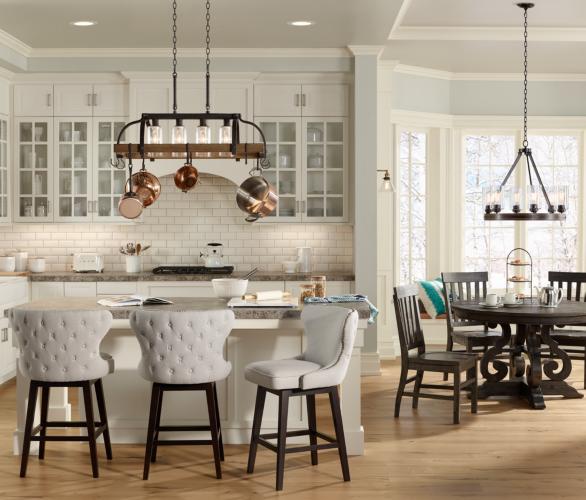 Keeping your kitchen organized does not mean a gut renovation. In fact, clever kitchen storage can be achieved inexpensively if you follow the three simple tips: reuse, repurpose, and recycle.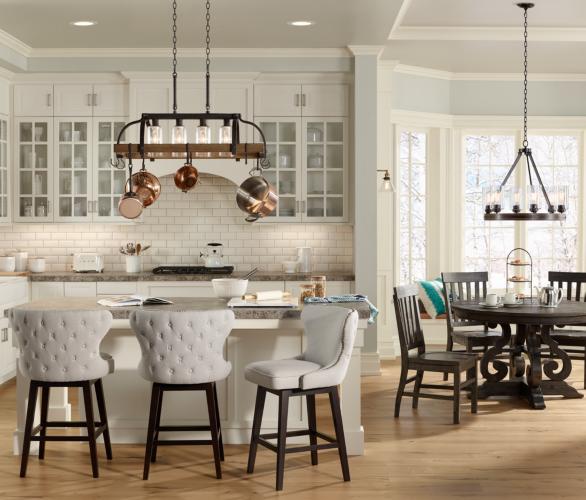 1. Reuse
One easy way to stay organized for less is to use clear canisters. Not only are they easily washed and used for just about anything, they stack beautifully and allow you to see how much is left of a particular item. No more pulling out the old box of cereal to see that your teenager has left a meager amount of corn flakes.
On a design note, we love the wallpaper on the back of the pantry. Why not keep things bright and breezy as well as organized. Make sure pantries are well lit. With kitchen lighting, it is critical to making sure you see what you have and need, not to mention to see when things get a tad dirty and need a good cleaning.
Did you ever think of the many uses for a tension rod? Forget about hanging a limp shower curtain from one of these beauties. I am in love with this idea…use them for vertical storage for trays, platters and cutting boards. Genius.
2. Repurpose
When was the last time you saw a pegboard outside of a garage or basement? Of course Julia Child used it in her own kitchen so it must be top drawer to use in ours. Funny enough, I'm not even discussing the pegboard, it's the fisherman's basket, a creel, that caught my eye.  We love how they have used baskets on vertical space to add storage in this kitchen. Country, charming and totally functional.
Another great idea for maximizing kitchen storage is as basic as a nail and hook. If you are challenged with drawer and cabinet space, there is no shame in hanging pans. We also happen to think these wire baskets are so chic. To me, making merchandising your kitchen to look like a store brings me joy.
Country wire baskets are perfect to hold everything from fruits and veggies as well as napkins, silverware and dishtowels. The handle makes them perfect for transporting items from kitchen to dining room or outside.
3. Recycle
We all have drawers that are filled with a jumbled assortment of random things including saran wrap and foil holders that can clean take off a digit if you're not careful. One interesting idea is to take an old cereal box, cover it in decorative paper and use it to hold those kitchen essentials that usually take up valuable horizontal drawer space.
Another chic storage idea is to recycle old filing cabinets used in old print shops and general stores. As you can see, they make one-of-a-kind extra storage for those with limited space and budgets. So, go forth and organize!
More Kitchen Ideas and Advice
We have videos as well as additional tips and idea articles about kitchen lighting and lighting design that you may find interesting. Click a link below to learn more.
How to Buy Mini Pendants – A Buying Guide
A Guide to ADA Compliant Lighting