Designing with Light – Bedroom Lighting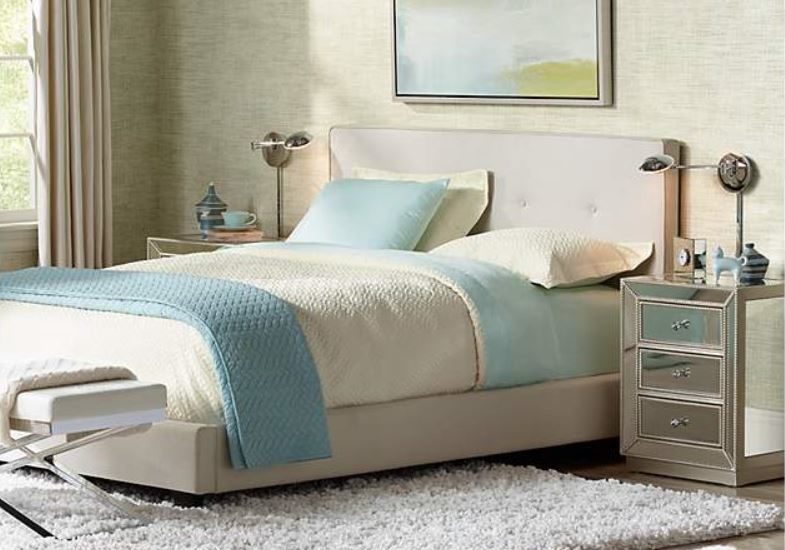 When looking for bedroom lighting, you will want to create an overall atmosphere of quiet relaxation, while providing some brighter areas for reading and other tasks. A combination of general and task lighting that takes into account the age and flexibility to vary the light to suit different moods and activities.
General Lighting for the Bedroom
Like any room, the best bedroom lighting will make you feel comfortable and relaxed. You'll want light coming from multiple sources. This gives you the flexibility to turn lights on and off as needed to create ambiance, and also gently illuminates a room space, making it feel more appealing. 
General bedroom lighting can be provided by ceiling fixtures, chandeliers, fan lights, recessed downlights, or wall sconces, giving you the illumination you need to dress and see into drawers and closets. 
At the dressing table, an adjustable, lighted magnifying mirror will provide ideal lighting for grooming and applying makeup, as will table lamps or floor lamps. You can also install bedroom sconces on either side of a table for a classic look and to provide functional lighting. 
Swing-arm wall lamps on either side of the bed at the correct height will provide adequate light for reading, while leaving night tables free for a clock radio, books, or beverages. Wall mounting lights such as swing arm wall lights come in a wide variety of styles, from sleek contemporary swing arms to more traditional swing arm designs with elegant shade treatments.
Bedroom Closet Lighting
For closets, a recessed or surface-mounted linear closet light is recommended. These offer a streamlined, finished look for the closet space and take up very little ceiling room. If you have a large walk-in closet you might want to consider a track light kit with different track heads that can be individually aimed. For the ultimate bling, a mini pendant chandelier or smaller crystal chandelier will give you plenty of sparkle.
Pendant Chandeliers and Recessed Lights in the Bedroom
Another idea is to hang mini pendant chandeliers next to the bed. This is a very popular new look for designers, who are even using ornate crystal chandeliers over the bed or over bedside nightstands.
For a more streamlined look, try recessed downlights in the ceiling over the bed. Many times recessed lights will be installed at all four corners of the bed, set a foot or so beyond the footprint of the bed. Install wall dimmers to easily control both pendants and recessed lighting.
Lighting Children's Bedrooms
Children's rooms will benefit from the use of track lights, which can be swiveled, rotated, and aimed in any direction to shed light on play areas, hobbies, or homework. As the child grows older, the bedroom lighting fixtures can be moved and redirected toward a stereo cabinet or sitting area.
If your children play and work on the floor then ensure that there is enough light at floor level.
Questions About Bedroom Lighting
To get more inspiration, visit our Shop By Room pages where you can browse 1000s of designer rooms.
Need help selecting product? Contact us or visit your local Lamps Plus store for suggestions! One of our lighting associates will be happy to help.
More Room Lighting Ideas and Advice
Kitchen Lighting Trends and Concepts
Getting the Best Home Office Lighting