Designing with Light – Getting the Best Home Office Lighting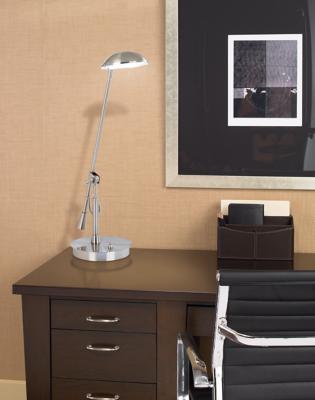 When it comes to home office lighting, it's important to create a comfortable environment that is free of harsh contrasts and distracting glare.
You will need task lighting for reading, writing, and computer work, and general lighting for the surrounding area. You may also want to include accent lighting for prized possessions and collections.
An adjustable desk lamp will provide task light for desk and keyboard areas. Position all lights so that their bulbs do not reflect in the computer screen. Look to halogen desk lamps for bright, clean home office lighting that's perfect for reading and other tasks.
Newer LED desk lamps and energy efficient desk lamp designs offer great reading light with cost-saving, energy efficient design.
If you are right handed, place your desk lamp on the left side of the desk so you don't cast shadows across your paper.
Exclusive Tree Torchiere Floor Lamps
An exclusive design from Lamps Plus, torchiere lamps with 2 side lights can handle several tasks at once. The head of the torchiere can help to light the entire room with glare free ambient light and the bullet lights can be positioned for more direct lighting where you want it.
Ceiling Lights for the Home Office
Two large ceiling fixtures, containing energy-efficient fluorescent tubes, can also provide plenty of well-diffused general home office lighting, while eliminating shadows on the desk. Place the fixtures over head and to the right and left of the desk so the light comes over the shoulder. Lighting placed in front of a desk will cause troublesome reflections.
Under-Cabinet Lights in the Office
Credenzas can be illuminated with slim under cabinet fixtures containing energy-efficient fluorescents. Mount as close to the front of the cabinet as possible to avoid glare reflecting off the work surface.
Pictures, mementos, professional certificates, or an attractive plant can be highlighted with overhead track lighting.
Home Office Furniture
Lighting is important in the home office setting, but so too is choosing a new home office desk or desk chair! For more tips on choosing the perfect office chair see our article, Buying an Office Chair.
Have Questions?
For more inspiration, visit our Shop By Room pages where you can browse dozens of home office inspiration rooms.
Contact Lamps Plus or visit one of our lighting stores for questions or product recommendations; we're here to help!
More Home Office Lighting Ideas and Advice
We have additional tips and videos about home office lighting. Check out additional articles and videos with one of the following links.
2. 5 Lighting Ideas for Teen Study Spaces
3. Getting the Best Home Office Lighting