Designing with Light – The Dining Room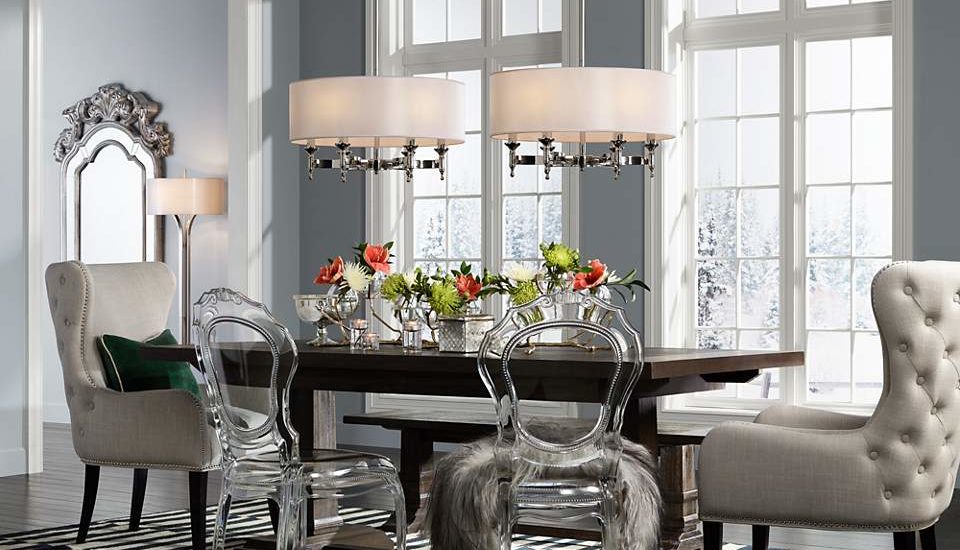 Dining room lighting should be both beautiful and functional. This requires a mix of general, task, and accent lighting that can set the mood for a number of functions, including a formal dinner, a family get-together, and more routine activities like homework, hobbies, or family bookkeeping.
In this article, learn how to take advantage of the main types of light to create a truly elegant dining area in your home.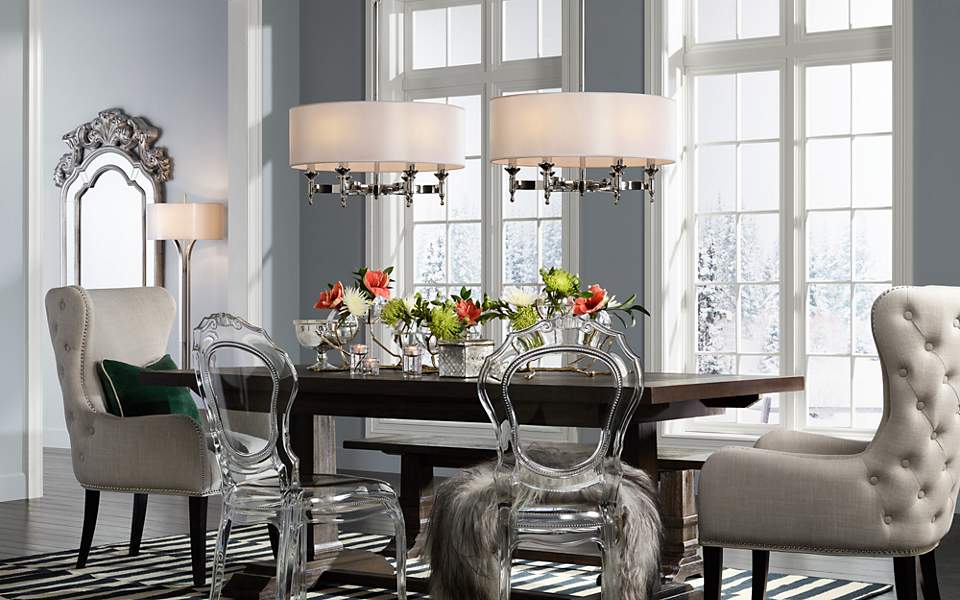 General Ambience: Dining Room Chandeliers
A dining room chandelier can act as a spectacular focal point of such an important space. Suspended over the dining table, it serves as a decorative style element that enhances the beauty of your fine furnishings.
When the light is dimmed, a soft, glowing atmosphere similar to candlelight is created. If equipped with a downlight component, the chandelier provides task lighting for the table and accent lighting for a centerpiece.
Avoid using high wattage light bulbs in your chandelier. Higher wattage bulbs will increase the heat over the table and can cause unwanted glare. Add a wall dimmer to your fixture or chandelier for greater lighting control.
Highlighting the Room: Recessed Lighting
Recessed lighting and dining room track lighting can provide general lighting, but the main benefit of these low-profile fixtures is that they enable homeowners to highlight (as accent, as the name suggests) prized or important possessions throughout the room.
Contemporary dining room with a six-light frosted glass chandelier.
A ring of recessed downlights around the dining table can supplement the light emitting from the chandelier while providing compelling accent lighting for your tableware or wall art.
Accenting the Walls: Wall Sconces
A buffet or sideboard can be flanked with decorative wall sconces or buffet lights on either side. Doing so helps highlight the wall area around the sideboard, drawing attention to the furniture and whatever you may have displayed on top of the sideboard itself. As an added benefit, wall lighting adds another layer of light to the dining room, enhancing the visual richness of the space.
Consider using energy-efficient LED bulbs or sconces with built-in LED arrays to lower your energy consumption and your utility bill. And remember, when selecting sconces, make sure to choose fixtures that complement the style and finish of your chandelier.
More Dining Room Lighting Ideas and Advice:
Swing Arm Lamps and Wall Lamps – Style and Function in One