Energy Efficient Outdoor Lighting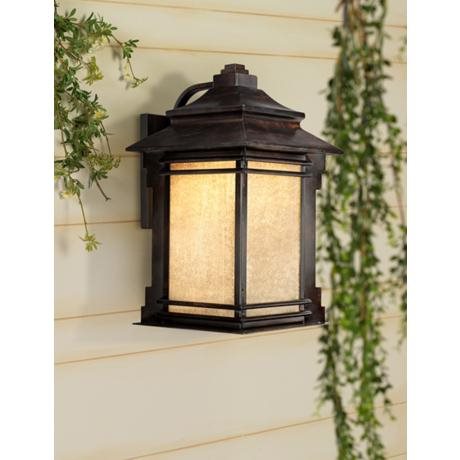 Go green in your great outdoors with these tips for using energy efficient outdoor lighting.
Being green and energy efficient are some of the hottest buzzwords around…and the smartest!
Installing energy efficient outdoor lighting saves energy, which means you'll be saving loads of cold hard cash over time.
And you won't have to sacrifice style. Energy efficient outdoor lights are available now in a wide range of styles and types for any home.
ENERGY STAR® Rated Outdoor Lighting
One place to start is to look for outdoor designs that are ENERGY STAR® rated. ENERGY STAR outdoor lighting is designed in to meet consumer product energy efficiency guidelines set by the EPA and U.S. Department of Energy.
To be an official ENERGY STAR rated fixture, the design must be submitted for testing and certification by the Department of Energy.
Once it has been thoroughly examined and tested, a product that passes the certification process can be sold under the ENERGY STAR label.
Wall light, ceiling light and outdoor post mounts are all available.
Especially popular are more traditional fixtures with a European flair, including many with additional features like dusk-to-dawn sensors.
Other Energy Efficient Outdoor Lights
Many other outdoor lighting designs are just as energy efficient, but do not carry the ENERGY STAR label.
Like ENERGY STAR rated outdoor product, energy efficient outdoor lighting uses CFL or LED bulb technology to deliver cost and energy savings.
The post lights pictured above from the Casa Marseille collection are a perfect example of this type of light.
This collection comes with efficient CFL bulbs that deliver the same amount of light (or lumens) as incandescent bulbs, but use far less energy (or watts) to do so.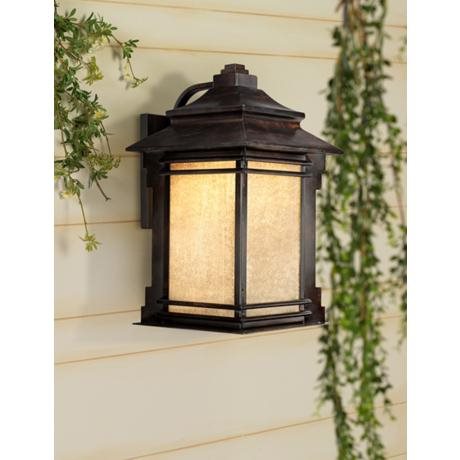 LED Outdoor Lighting Designs
There are even new LED outdoor lighting designs that are now available.
These products utilize LED lighting technology to deliver superior energy savings.
LEDs also last for years of use, meaning you won't be going through the hassle of changing bulbs any time soon.
Since they will last for years of use, designs that use LEDs are a great choice for areas that are hard to reach or access.
Many feature built-in motion sensors, so you can place them on garages or in walkways just as you would a normal incandescent bulb fixture.
Questions?
To learn more, speak with one of our American Lighting Association trained consultants.
Use our Lamps Plus store locator page to find a location near you, or contact us with your questions.
More Outdoor Lighting Ideas and Advice
Quick Guide: Choosing the Right Sized Exterior Lighting
Create Outdoor Ambiance with Deck Lighting
Outdoor Lighting and Curb Appeal
A Guide to Dark Sky Lighting – 6 Quick Tips
3 Must-haves for Installing Low Voltage Landscape Lighting