How to Buy a Ceiling Fan – A Four-Step Guide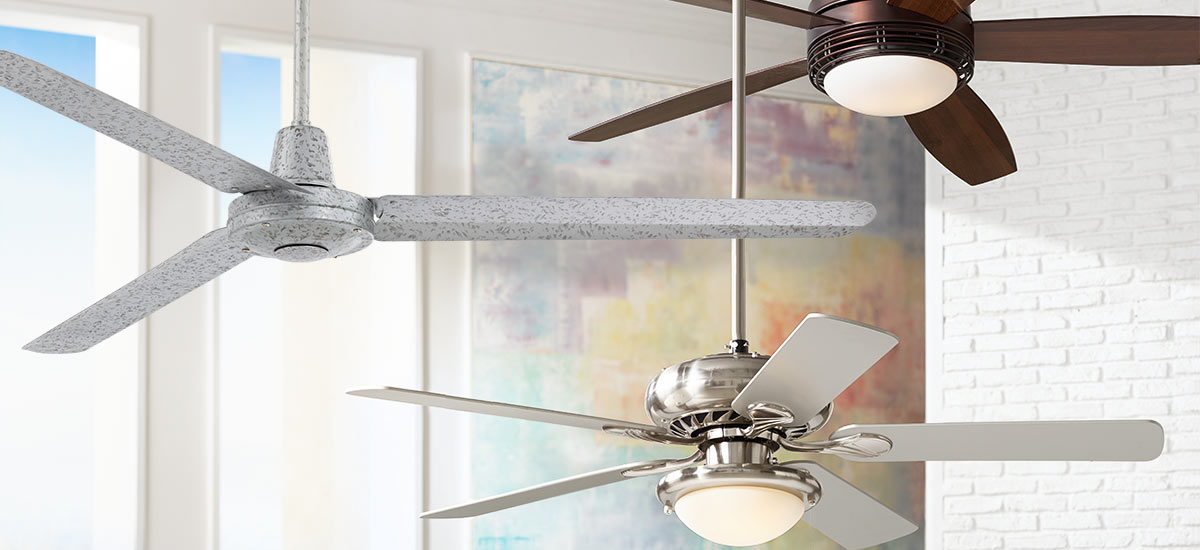 What makes the perfect ceiling fan? While style and finish are certainly important, considering a few key factors will help you pick the right ceiling fan for your space. You can browse our entire line of ceiling fans here.
Four Basic Steps to Buy a Ceiling Fan
Step 1: Determine Ceiling Fan Location – Indoor or Outdoor Ceiling Fan?
There are three types of ceiling fans: indoor, damp-listed, and wet-listed ceiling fans. Here's how to determine which one you need based on where it will be installed: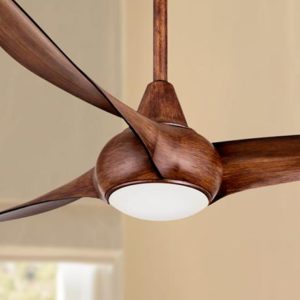 Indoor Ceiling Fans
Do you need a ceiling fan for your living room, kitchen, or bedroom? Then you'll need an indoor ceiling fan. All ceiling fans can be used indoors, which means they might not be marked as indoor fans so you're free to shop and browse the entire selection of ceiling fans.
But if the indoor area is subject to humidity, you'll need a damp-listed ceiling fan. These special rated fans are ideal for indoor areas, such as bathrooms and laundry rooms. To find a damp-listed fan for your bathroom, you'll need to shop our selection of outdoor ceiling fans and look for a fan with a damp-listed rating.
Can you place an indoor ceiling fan outside? No. Indoor ceiling fans will not withstand outdoor elements.
If you need a ceiling fan for an outdoor area, read on to learn how to buy a ceiling fan for the great outdoors.
Outdoor Ceiling Fans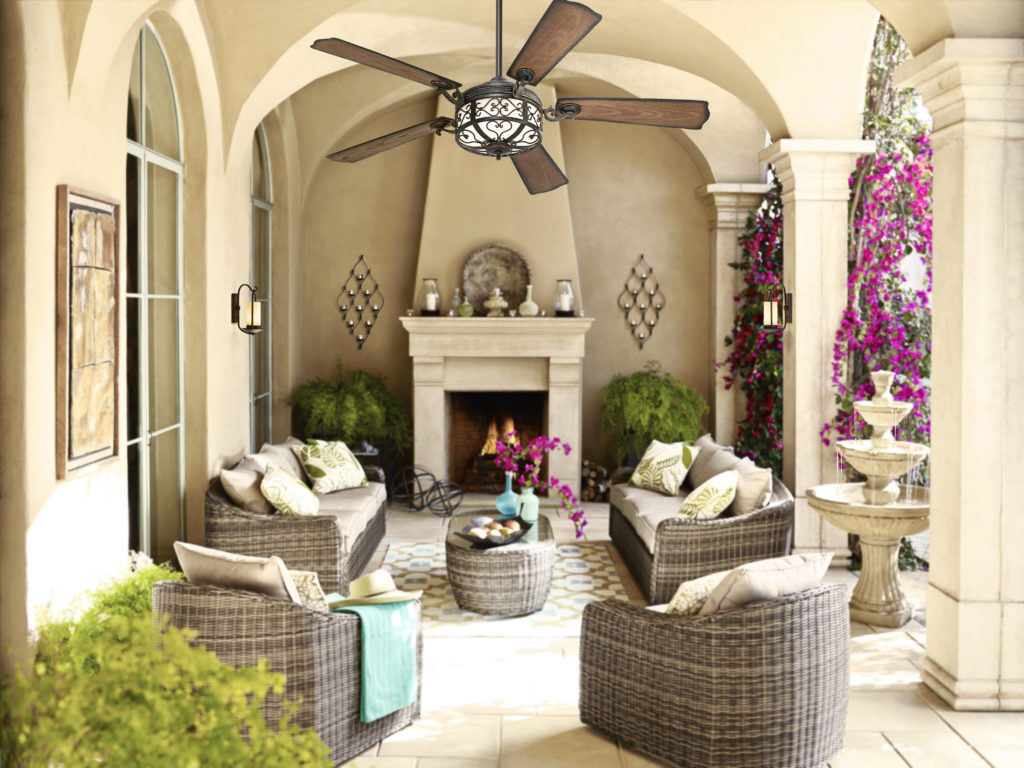 Designed for outdoor use in spaces such as patios and porches, outdoor ceiling fans are weather-resistant fans that can withstand exposure to the elements.
As you browse this selection of fans, you'll need to determine if you need a damp-listed ceiling fan or a wet-listed fan.
Here's how to pick the right rating for your needs:
Damp Listed Ceiling Fans
A damp-listed ceiling fan is recommended for outdoor areas that are covered but not directly exposed to water. Examples include covered porches and covered patios, since these areas are completely protected from water.
Wet Listed Ceiling Fans
If you have an outdoor area directly exposed to water, look for a wet-listed ceiling fan to avoid weather damage. Examples of outdoor areas that require wet-listed fans include uncovered gazebos, open-air patios, and open-air decks.
With the ceiling fan location in mind, you can narrow your search for an indoor fan, damp-listed fan, or wet-listed fan.
Now it's time to determine the proper size of your ceiling fan.

Step 2: Calculate Ceiling Fan Size
Ceiling fans come in different sizes. In step two of this helpful ceiling fan buying guide, we show you how to select right size fan for your space.
First, measure the size of the room. To do this, take the length and multiply by the width. This also known as the square footage of a room.
Length x width = Room Size (Sq. Ft.)
Once you have the square footage of the room, use the following chart to find the right size fan: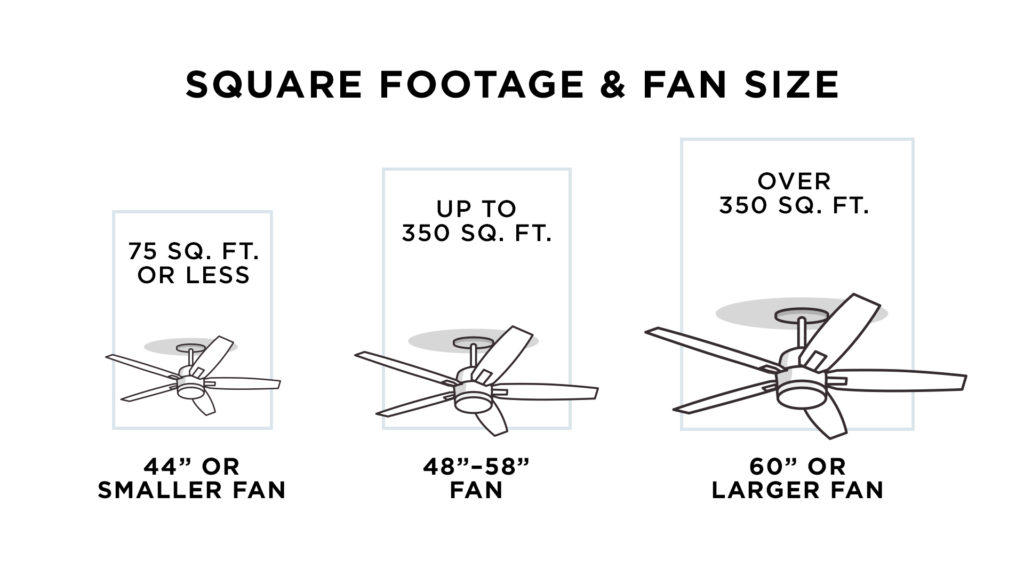 Step 3: Confirm Ceiling Fan Mounting Type
Along with ceiling fan size, you'll need to select the right mounting type and determine if you need a downrod.
First, measure the height of your ceiling.
With your ceiling height on hand, use this chart to find out what type of fan you need.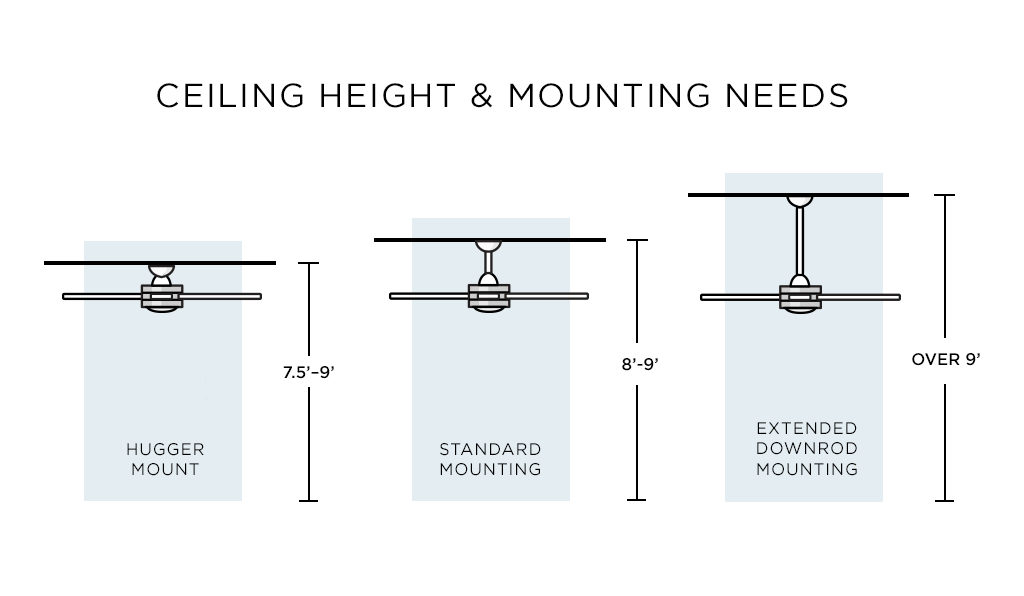 Low Ceilings
If your ceiling height is between 7 ½ feet and 9 feet high, you have a low ceiling. For low ceilings, you can use a hugger fan. Hugger or flushmount ceiling fans mount directly to the ceiling without the use of a downrod.
If you have a low ceiling, you can also use a low profile fan. Low profile fans are standard fans with a dual mount feature which allows you to mount close to the ceiling.
Standard Ceilings
A standard ceiling is between 8 to 9 feet high. If you have a standard ceiling, you will be pleased to know that most ceiling fans include a downrod for standard ceiling heights of 8 or 9 feet high.
High Ceilings
If your ceiling is higher than the standard height of 8 to 9 feet, you will need a longer downrod to mount the fan.
Tips on How to Hang a Ceiling Fan 
Ceiling fan blades need to be at least 7 feet above the floor.
Ceiling fans with metal blades need to be at least 10 feet above the floor.
Mounting Type and Downrod Length
How long does your downrod have to be? Use this chart to find out: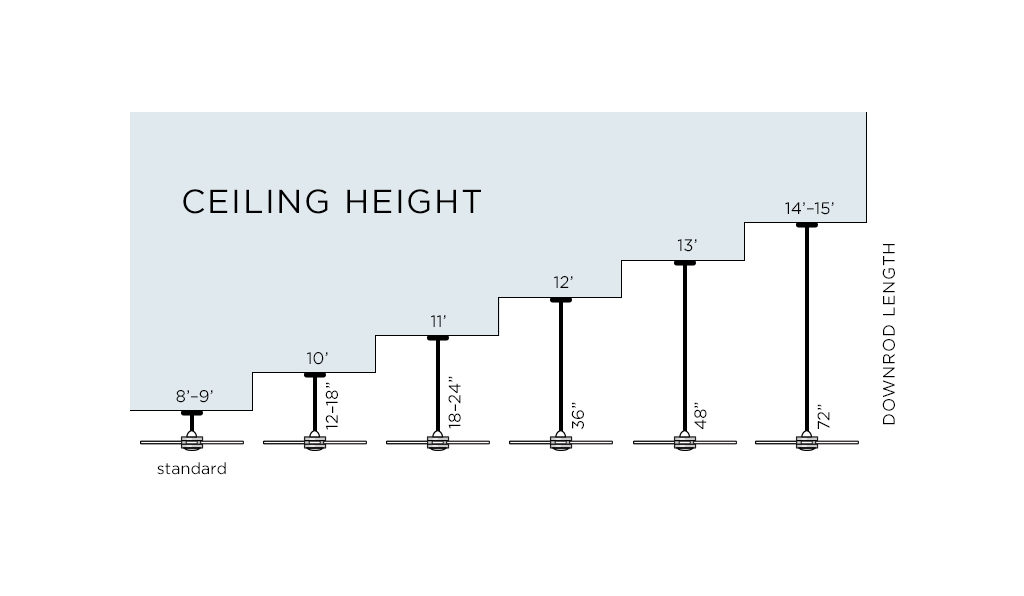 Step 4: Choose Ceiling Fan Controls
How do you want to control your fan? 
Ceiling fans are controlled by handheld remotes, wall controls, or pull chains.
It's important to note that not all ceiling fans have all three controls. The point? It's a good idea to choose a fan that comes with the controls that are most important to you.
Here, a breakdown of ceiling fan controls and the advantages of each:
Handheld Remote Controls
A convenient option if you have high ceilings and if you want the option to control the fan from any location within the device's range.
Wall Controls
Wall controls are convenient to turn on as you enter a room. This option is also great for families with kids and multi-purpose rooms.
Two-in-One Handheld and Wall Remote Controls
This option combines the advantages of both types of controls.
Pull Chain
The most basic fan control, pull chain ceiling fans are easy to operate. Pull chain ceiling fans can also be upgraded to remote control systems or wall controls, offering the flexibility to change the control in the future.
Still Spinning? For immediate assistance, please contact Lamps Plus at 800-782-1967.
More Ceiling Fan Ideas and Advice
5 Features to Look for in a Ceiling Fan