Lighting Ideas For a Spanish Style Home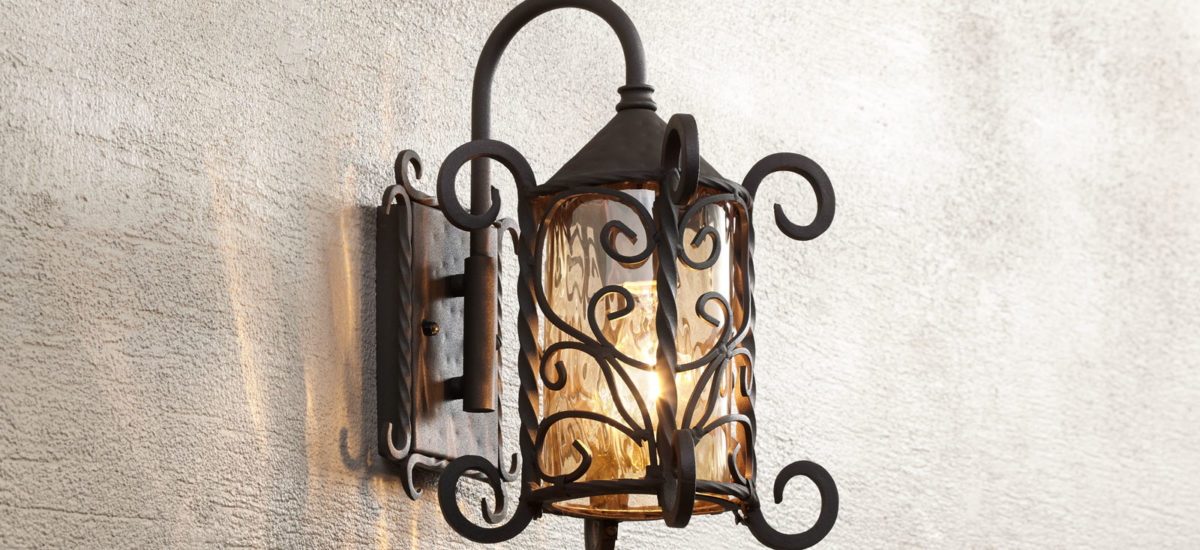 When carefully selected, indoor and outdoor lighting can beautify your Spanish style home while staying true to its architectural style.
Here, a curated selection of modern Spanish lighting ideas from Lamps Plus.
Modern Spanish Lighting – Outdoor Lighting
For the Spanish style home, outdoor fountains act as focal points. Gardens include urns filled with cascading botanical elements, succulents or blooming annuals. Landscaping might consist of bougainvillea, roses, and olive trees which add to the Mediterranean inspired aesthetic. Not surprisingly, this charming setting comes to life with the right lighting.
Outdoor lighting options abound, allowing you to create a lighting design that suits your needs as well as matches the style of your home. Consider adding traditional style outdoor wall lights, posts, and street lanterns. Bronze finishes featuring scroll designs and leaf accents are ideal, though you can be creative with this look.
Spanish-Style Lighting – Indoor Lighting Fixtures
As you walk indoors, most Spanish style homes feature carved stonework or cast ornaments, as well as patterned tiles on staircases and walls or inset in stucco as accents. In a typical Spanish Revival interior, cast stone pilasters support a dramatic arcade (succession of arches). Bronze sconces illuminate the hallways, a large scale carved wood mirror reflects light, and arched black casement doors lead to the outdoor areas. Arched passageways and niches, without any crown molding, are classic elements. Exposed wood beams paired with white troweled walls are also common in Spanish Revival homes as are wood doors and floors. The wood and white combination adds inviting contrast.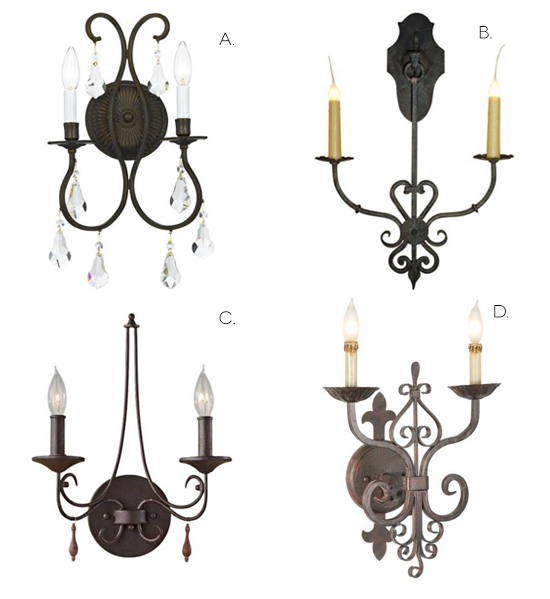 When it comes to indoor Spanish style lights, bronze or iron finishes on lanterns, sconces, and chandeliers complement this architectural style.
Bronze lantern pendant lights are ideal for the Spanish style kitchen. Hang multiple lights over the island and you will instantly dress up your space.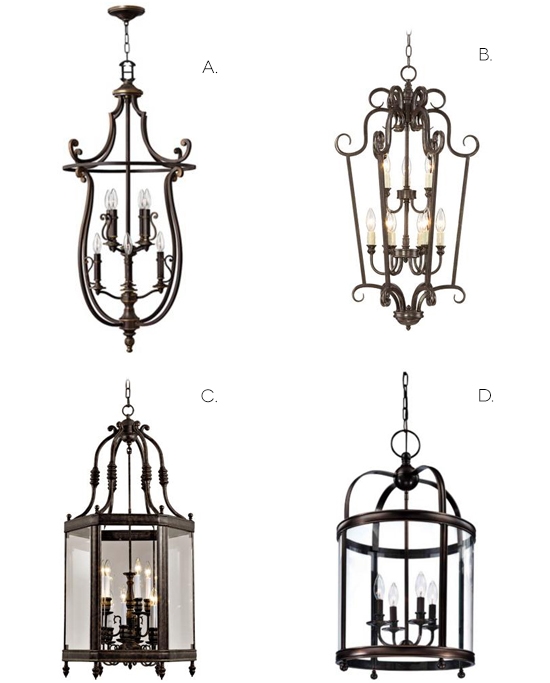 While ceiling lights and wall lights add a special touch, so do Spanish style table and floor lamps.
In addition to great modern Spanish lighting, get the Spanish Revival look with beautiful home furnishings and accents. Introduce drama to a living room with a decorative fireplace screen. Dress up your outdoor area with a lovely outdoor fountain. You can also add a Spanish touch to our interiors with accent chairs, wooden benches, or area rugs.
History of Modern Spanish Revival
Modern Spanish Revival traces its influences to the California mission churches built in the 18th century by early Spanish settlers and missionaries. This unique architecture style is recognizable by smooth stucco exteriors, tile roofs, arched doorways, and casement windows. Beautiful balconies with decorative iron railings are also very common in these homes.
Lighting also plays a vital role in solidifying this style.
While your home may not be Spanish Revival in its architectural style, you can still incorporate lighting and other elements you love. And remember, mixing styles always keeps it interesting!
Related Ideas and Advice Articles
Style Guide: Decorating with Iron Lighting and Furnishings
Home Decor Trend: Craftsman Style
Style Guide: Tiffany Lighting and Decor