Shopping for Outdoor Ceiling Fans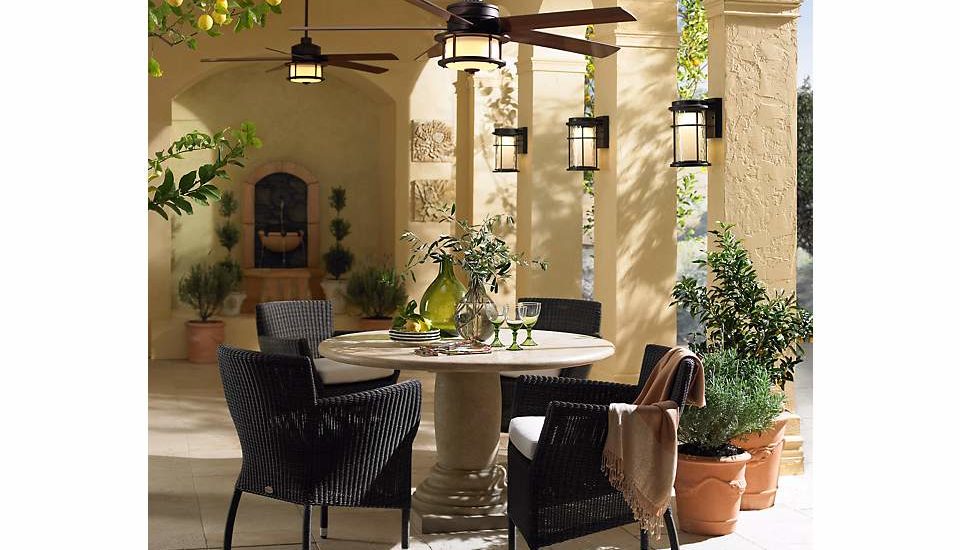 One of the hottest trends in home decorating is maximizing the use of outdoor patios and porch areas. From sun rooms to outdoor cooking areas, we are living outdoors as never before.
Tips for Finding the Perfect Fan for Porch or Patio
One way to add a new level of comfort to your outdoor space is with the addition of an outdoor ceiling fan. As their name implies, these types of fans are specifically made to be used outside. Some are for use in covered patio or porch areas, while other designs can be installed in locations where they will be directly exposed to sun, rain, and the elements.
Not only are these types of fans great at keeping you cool, they can also help shoo-away pests like mosquitoes and flies.
Manufacturers call these two types "damp location" and "wet location" fans.
Knowing the difference is key to selecting a fan that will give you worry-free operation for years to come.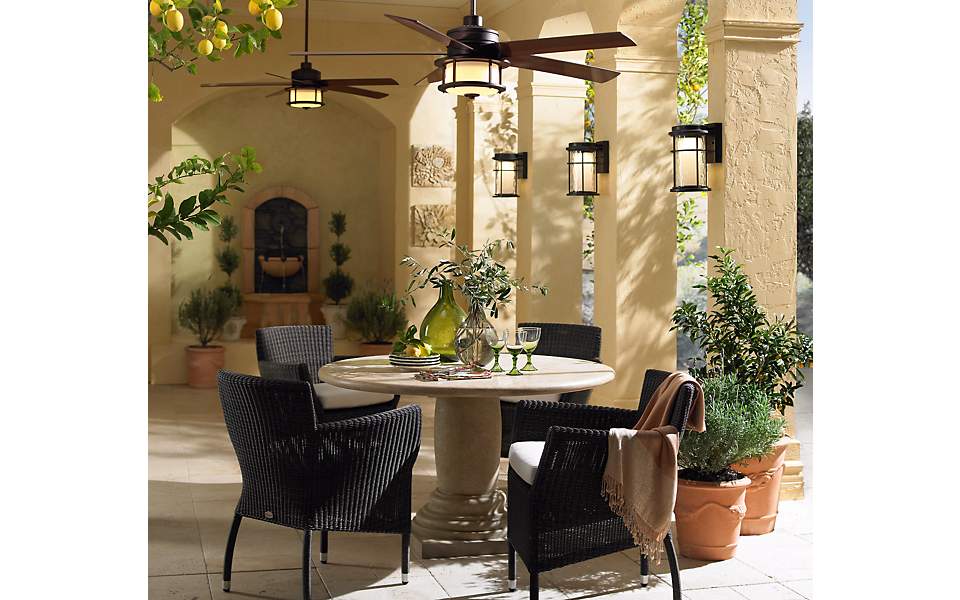 Damp Location Ceiling Fans
Damp location fans should be used on covered patios or porch areas. These types of fans are built so that they can be exposed to humid or damp locations, but not to direct expose to rain, moisture, snow, or water. Damp location fans are ideal for screened-in patios or sun-rooms, where exposure to moisture and water is minimal.
Wet Location Ceiling Fans
For more exposed locations, opt for a wet location ceiling fan design.These types of fans are designed for use in exposed locations such as gazebos, open patios, or other uncovered outdoor seating areas.
These types of fans can be exposed directly to the full range of elements, like rain, snow, and direct moisture. They have specially designed motor housings and other components that safeguard the electrical components from water.
So, when to use a wet location fan? As stated above, whenever the fan will be exposed to direct moisture. But even if a fan is being placed on a covered patio, there are reasons to opt for the more heavy-duty wet location fan.
Indeed, we highly recommended that you use only a wet listed fan for the following locations and/or conditions:
In proximity to a waterfront or dock area.
Locations constantly exposed to salt air and water.
High humidity regions or areas exposed to high humidity.
Regions with extremes of temperature, either hot or cold.
Locations with constant sun and UV exposure.
Keep these tips in mind when you shop for a ceiling fan for outdoor locations.
Questions?
Call 800-782-1967 to speak with one of our friendly, professional Lighting & Home Decor Consultants or visit a Lamps Plus location near you. Whether via phone or in person, we're happy to assist you in completing your project.
For more inspiration, check out our video "Ceiling Fans – Popular Styles and Shopping Tips" below:
More Ceiling Fan Ideas and Advice
5 Features to Look for in a Ceiling Fan