Tips for Lighting Your Kitchen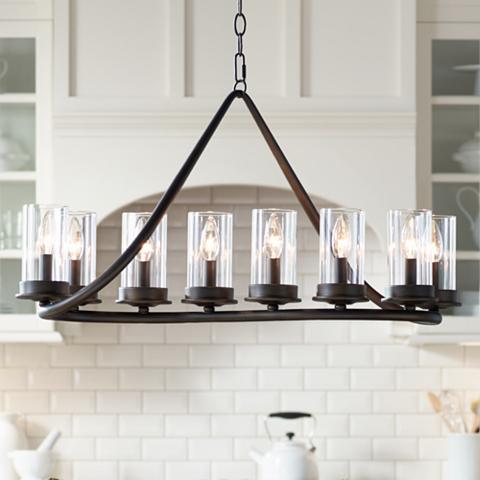 Creating a design plan for your kitchen lighting is like cooking a great meal: to begin, you need the right recipe and the proper ingredients. To make sure you cook up the best lighting scheme for your kitchen, get help from a lighting professional.
Kitchen Lighting Sources and Types
The biggest mistake is not having a good mix of lighting that meets your needs. There are a number of sources and typed of lighting to consider.
Overhead on the ceiling, recessed lighting is great for creating a blanket of light, but not for bringing light specifically where you may need it.
A note of caution with recessed lighting: sometimes you can have too much of a good thing. "I have seen people not sure about what to do with their lighting keep adding recessed lights, instead of mixing the various lighting types," says Steve Birdwell, Certified Lighting Consultant, "The result is that they kill the room with too much light."
Indeed, recessed lighting is great for overall room illumination, but isn't as flexible or precise as other light types.
For lighting counter tops and kitchen work areas, undercabinet lighting is a much better choice. This type of lighting installs, as the name suggests, under a cabinet, and directly lights the counter area underneath. There are a wide range of designs available, including new LED designs.
For work areas such as kitchen islands, designer mini pendant lighting is a popular and stylish choice. These types of lights install in the ceiling and hang down from a long cord or wire. Their light is points directly to the area below, so they are ideal for cooking and food prep areas. Install them in sets of three for a balanced look over islands and counter areas.
Plan Before You Install
No matter what lighting you decide on, it's important to form a detailed overall lighting plan.
If you are using professional services and visiting a lighting showroom, come prepared. Bring a picture of your kitchen, if possible or at least know your kitchen dimensions. How tall is the ceiling? Where are the doors? How much space is there between the cabinets and the ceiling? How much space is there between the cabinets and the countertop?
If you are building a new kitchen, bring in a layout. It's critical to plan where you intend to install recessed lights, kitchen ceiling fans and overhead kitchen fixtures.
If you are planning to update an existing kitchen, tell the lighting expert how much deconstruction you want to do. If you don't want to destroy the ceiling, then you have do something different with installations.
Keep it Consistent
Consider asking the lighting professionals to make a house call. Once you have the plan in place, use the same color bulbs throughout the kitchen so that the tone of the floor, counters and cabinets will all be the same intensity.
Lamps Plus Kitchen Lighting Tips
Call us or visit a local store to discuss kitchen remodel ideas with one of our trained lighting experts. Also, click to learn more about our free Expert Workshops or schedule an In-Home Lighting Consultation.
More Kitchen Lighting Ideas and Advice
We have videos as well as additional tips and idea articles about kitchen lighting and lighting design that you may find interesting. Click a link below to learn more.
1. Cooking With Kitchen Lighting
3. A Guide to ADA Compliant Lighting