How to Buy Track Lighting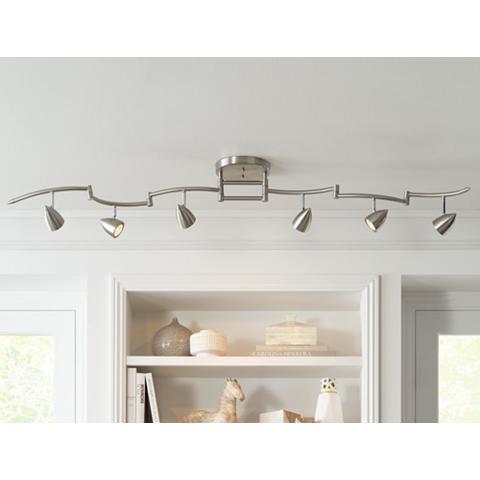 For a flexible and customizable interior lighting solution, nothing beats track lighting. In this track lighting buying guide, you'll discover the basics of track lighting, the different sorts of systems that are available, and what to keep in mind when purchasing track fixtures for your space.
What Is Track Lighting?
Track lighting is based on a system of fixtures called "heads" or "bullets" connected to a "track." The track, or monorail, contains electrical conductors that power each track head to cast light throughout your space.
The Advantages of Track Lights
The ability to individually reposition and adjust each head to customize the illumination in your rooms.
Certain systems allow you to choose the points along the track where you want to position each bullet.
Can be installed on both ceilings and walls, depending on the design of your space.
Track heads are available in a variety of options, including low-voltage halogen bulbs and energy-efficient LED styles.
They are ideal for display lighting use to highlight hanging art or architectural details.
So if the thought of adding new wiring for individual fixtures sounds daunting and complicated, or if you are intrigued by the idea of adjustable illumination, track lighting is the perfect option. . . . But before getting started, here are a few things to help you pick the right system for your home:
Three Types of Track Lighting
There are two types of light kits, which give you everything you need in a single, handy package:
One type of track kit simply installs into the ceiling junction box just like any other ceiling fixture. These kits feature light heads which are attached to either a fixed or adjustable swing-arm bar. The light heads can pivot and rotate but are not able to slide back and forth along the bar.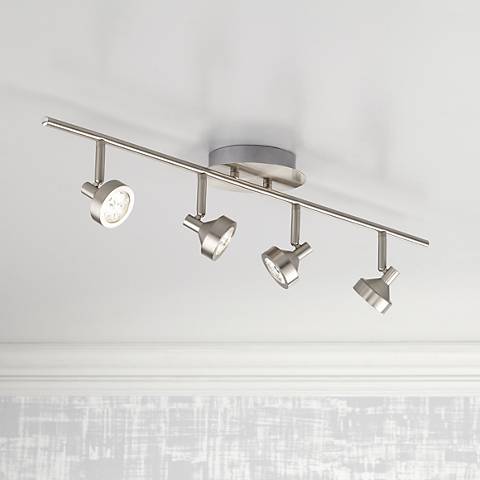 Complete linear track kits (consisting of track, adjustable light heads, and canopy) are also available. Some designs have fixed position lights that can be aimed, while others have lights that you can move the heads back and forth along the bar and also add additional lights. There are also plug-in track lighting kits available that don't require an electrician and just plug into a wall outlet.
This type uses linear strips of track, usually in 2-foot, 4-foot, 6-foot, or 8-foot lengths.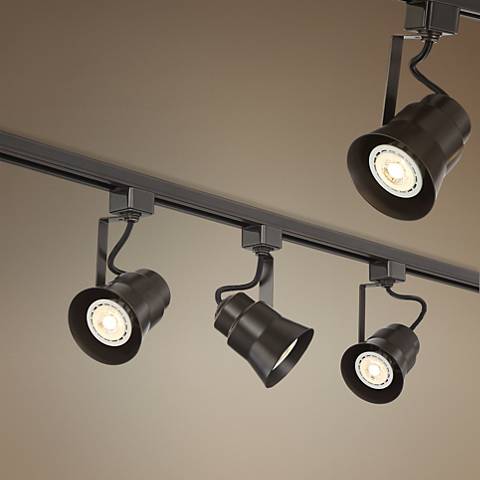 Connectors are used to join the pieces, so you can create a custom layout for your room. You can choose the style of lights you want, and position them anywhere on the track.
Flexible pieces of track are used that can be curved to create rounded, flowing shapes.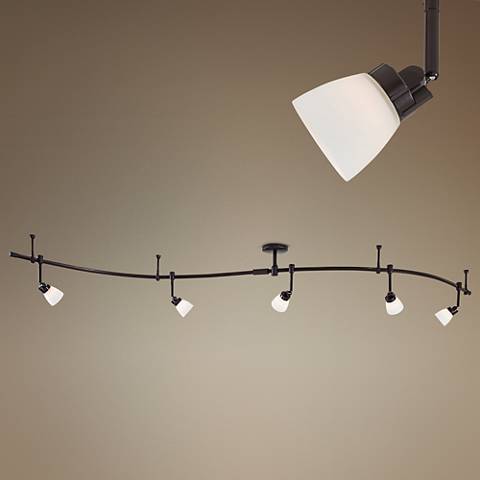 Unlike linear track that lays flat on the ceiling surface, monorail hangs down from the ceiling from standoffs, offering a sleek contemporary look. Complete kits are also available.
Line Voltage vs Low Voltage
Line Voltage Systems – These systems connect to your home's standard 110-120 volt feed, just like any other ceiling light.
Low Voltage Systems – These track systems use a transformer that converts or steps-down your home's regular current to a lower voltage, commonly 12 volts. These offer a more controlled, focused beam of light.
Decorative vs Task Lighting
You'll also want to note that track lighting can serve more than one purpose. Many track kits offer a decorative look and produce wide beams of light, making them best suited to general lighting purposes.
Linear and monorail systems feature track heads that offer a more focused beam of light, making them perfect for task lighting in work areas and for spotlighting art, plants or architectural features.
Customizing Your System
Track light kits come with everything you need, but linear and monorail systems can be custom configured. We feature designs from top brands like Juno, WAC, Lightolier, and Pro Track. Not all track, connectors, and lights work together, however, so be sure to always choose compatible parts.
Connecting Linear Track Pieces
With most systems, you can link multiple lengths of track by using straight, T-shaped, or L-shaped connectors. Again, be sure to use compatible parts.
Cutting Linear Track
Track that can be cut will be noted in individual products for details. Always make sure the cut end is either connected to another length or capped with dead-end cap.
Spacing Lights
In general, you'll want to place track heads on linear and monorail track every 12 to 24-inches. You can place lights closer together for a specific use, such as lighting a work area, but keep them at least 4" apart.
Sloped Ceilings or Walls
Many track systems can be used on sloped ceilings, or even on a wall surface. We will note in copy whether a design can be installed in such a way.
Dimmers
Using a wall dimmer adds extra versatility and ambiance to your system. For LEDs, be sure to use an LED compatible dimmer. Line voltage systems with incandescent bulbs work with a standard wall dimmer.
Questions?
Call 800-782-1967 to speak with one of our friendly, professional Lighting & Home Decor Consultants or visit a Lamps Plus location near you. Whether via phone or in person, we're happy to assist you in completing your project.
More Track Lighting Ideas and Advice
Kitchen Lighting Trends and Concepts