Upgrade Your Outdoor Lighting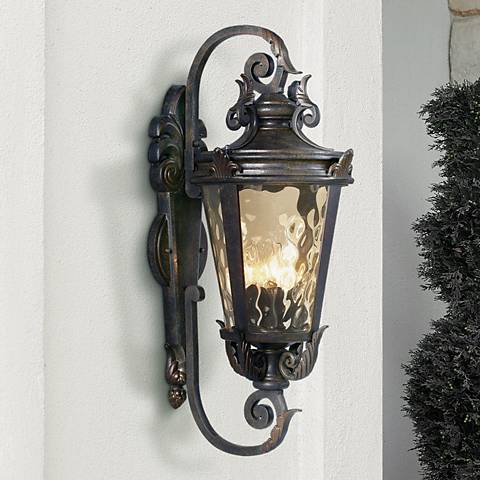 Every homeowner knows the necessity of lighting both indoors and out. Spending the time and money on high-quality statement lighting will not only make you smile each time you flip on the light switch and admire its beauty, but also add value to your home.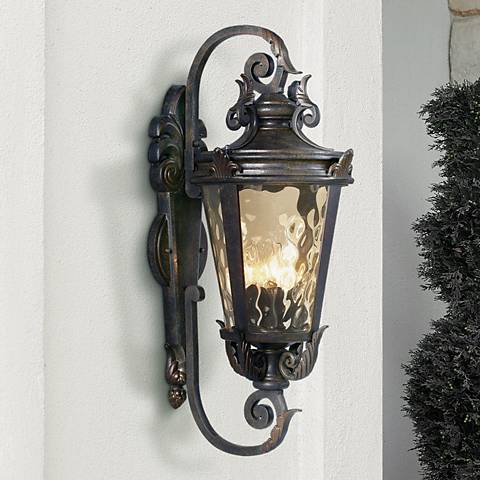 Lighting is all about form and function, and your choices should complement the style of your home. Similarly, the placement of your outdoor lights should serve a real purpose, and not be randomly spread about.
Front Porch Lighting Ideas
Light fixtures on the front porch are the first impression, so look beyond ordinary finds and seek out something special. In covered porches and entries, flanking the front door with large outdoor wall lights adds character by day and illumination by night. Beyond adding curb appeal, outdoor light fixtures such as this also add safety and security to your front yard.
Covered Patio and Porch Lighting
Covered patios and porches are a favorite place for all to gather in fair weather. Set a table to dine al fresco or include a seating area for lounging on lazy days. Either way, you'll need lighting for when the sun sets. Suspended outdoor lanterns over table tops or conversation zones let you linger longer.
Outdoor Lantern Designs
Add similar drama to your outdoor space with any of hanging lantern design. This type of profile offers a dramatic yet classic look and will complement a wide range of outdoor spaces.
Other Lighting Options: Fans and Sconces
Long porches and breezy cabanas in warm climates need outdoor ceiling fans to circulate air overhead. In lieu of a chandelier, look to stylish sconces to balance the decor. Repeat the same sconces around the space for uniformity and even spots of illumination when the space is in use during evening hours.
Play off the architectural style of the home or the furnishings with your finishes and design of choice. The industrial chrome outdoor wall light look is a fantastic choice for homes with a coastal vibe.
What's the Best Material for Outdoor Lighting?
Most outdoor lights feature metal construction with a finish over it. These finishes are designed to provide years of good looks. A regular cleaning with water will help remove dirt and oils that may mar the finish. If you love in a location that's near salt water or have a vary humid climate, you may want to consider a tougher finish. Marine grade outdoor light finishes are made from special fade-resistant composite materials and are specifically made for marine environments, coastal climes, and areas that experience hot or cold extreme temperatures.
More Outdoor Lighting Ideas and Advice
Quick Guide: Choosing the Right Sized Exterior Lighting
Create Outdoor Ambiance with Deck Lighting
Outdoor Lighting and Curb Appeal
A Guide to Dark Sky Lighting – 6 Quick Tips