Ceiling Fan Quality – Parts Make a Difference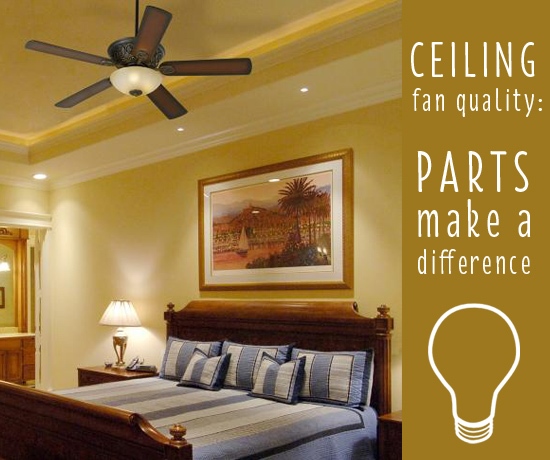 Ceiling fan quality is a major factor when looking to buy a new fan. To make sure you get the design which best suits your personal needs, here's our guide to the various ceiling fan parts and how they impact quality, performance and the look of the fan.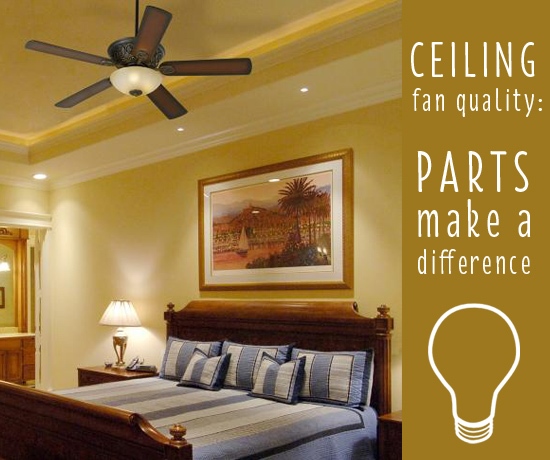 Ceiling Fan Motor Size
Motor size is one of the most important factors determining the quality of ceiling fans and their ability to provide a cooling breeze. Many motors are undersized for the job or poorly constructed. Not only can this make your fan less efficient, but if the fan starts humming or clicking, the problem is probably the motor.
To make sure you are getting a good motor, take a look at the warranty. For heavy duty motors that are used in the best ceiling fans, the manufacturer backs up the product with a motor warranty.
Ceiling fan body housings are either die cast or stamped steel. A die cast housing adds to the stability of the fan and is especially important when the fan uses a downrod longer than 6″ to accommodate a taller ceiling. The additional weight of the housing helps to stabilize the fan.
The die cast housing also helps deaden motor noise and adds to the lifetime of a fan. Stamped steel housings, while less expensive, are more likely to wobble and make noise.
Die Cast Motor Construction
A precision die-cast aluminum motor, like the one pictured above, offers a long lifespan due to the lower operating temperatures that are achieved from the aluminum body enclosure.These types of fan motors offer superior air movement and are also extremely quiet because aluminum does not resonate noise and sound like steel motors.
Many of these types of motors utilize precision engineered bearings. These types of bearings provide the lowest resistance and friction, which in turn means a virtually noise-free motor sound. Unlike some other fans, no rubber fly-wheel is necessary to balance the running motor.
A die-cast zinc housing is another type commonly used by manufacturers. These types of motor housings run quietly and smoothly with less vibration due to the higher weight volume of the housing. The die-cast surface also allows for higher quality finishes.
Large Stamped Steel Motor Construction
Large stamped steel motors (above) provide excellent air movement and a long operation life. The larger size of the motor allows for quality windings and precision engineered bearings, which make for quieter operation.
Die cast housings are also found in this type of fan motor. They allow for smoother and quieter operation with fewer vibrations due to the higher weight volume of the housing. Rubber fly-wheels reduce "wobbles" and dampen noise.
Medium Stamped Steel Motor Construction
Medium stamped steel motors (above) have a good operation span due to increased motor size and better quality windings. They come with quality bearings that make for less noise and longer motor life.
Small Stamped Steel Motor Construction
Small-sized stamped steel motors (see above) are typically found on home center and mass merchant product. Due to their small size, their ability to move air is compromised, and they are typically noisier with lesser quality bearings and windings.
The stamped steel housing creates more noise due to vibration caused by thin stamped steel. And the fan can be less stable due to lower weight.
Blade Pitch
In general, the greater the angle, or pitch of the blade, the more air the fan will move. You should be looking for blade pitches between 12 and 16 degrees.
The combination of a heavy-duty motor and high blade pitch makes for an efficient, well-engineered fan.
Be careful of judging the quality of the fan based on blade pitch alone. If the fan has a small motor and high blade pitch, the force of pulling the blades through the air will not only slow down the motor but eventually that motor will overheat from working too hard.
At Lamps Plus, we engineer and source fans that have been carefully designed to provide the ideal combination of motor size and blade pitch.
Blade Construction
Ceiling fan blades should be made of multiple layers of pressurized hardwood to eliminate warping. Some less expensive blades are made of particle board, which can bend and warp over time, which can contribute to fan wobble and noise.
Fan Controls
While this may be the last thing you think of when purchasing a ceiling fan, the correct ceiling fan remote control unit makes the operation of your fan much more convenient.
The controls allow you to change the fan speed and light intensity of your fan. Controls are classified as basic pull chain, hand held remote control or wall control.
If your ceiling fan is going in your bedroom, a hand held remote control helps you make the adjustments during the evening without getting up. In other rooms, either a wall or remote control will keep you from having to reach for the fan every time you need to make an adjustment. This will become especially important if your fan is centered over a table or other furniture.
Installation
Correct installation contributes greatly to the efficiency and life of your fan. Lamps Plus always recommends using a licensed, qualified and experienced ceiling fan installer or electrician. In many of our store areas we offer ceiling fan installation services at a very reasonable cost.
For more inspiration, view the ceiling fan video below that's taken from the Lamps Plus YouTube channel.
Questions?
Call 800-782-1967 to speak with one of our friendly, professional Lighting & Home Decor Consultants or visit a Lamps Plus location near you. Whether via phone or in person, we're happy to help you assist you in completing your project.
More Ceiling Fan Ideas and Advice
5 Features to Look for in a Ceiling Fan