How to Buy Outdoor Lighting – Planning and Design Tips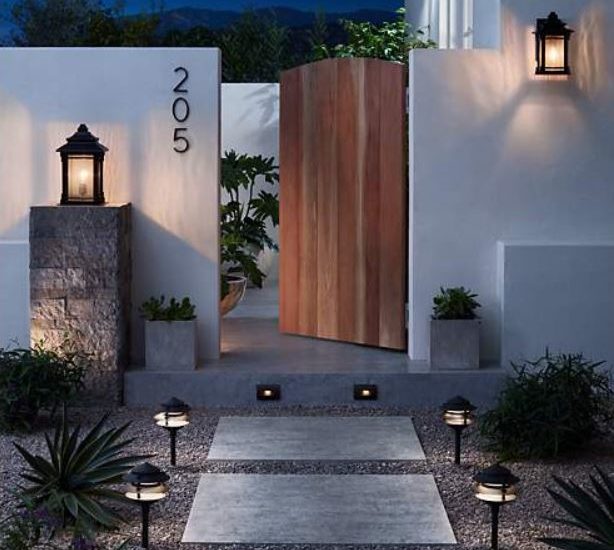 The right outdoor lighting should be as useful as it is beautiful. This guide shows you how to buy fixtures that meet your needs and create solid curb appeal for your home. You can browse and shop all outdoor lighting here.
Designing the Perfect Outdoor Lighting Plan
Three Reasons to Buy Outdoor Lighting
Knowing the benefits of outdoor lighting will help you create a lighting plan that works best for you. Here, three reasons you might need lights around the outside of your home.
1. Outdoor Lighting Adds Curb Appeal
Great lighting outdoors adds ambiance to any home. Little extras, like a post light at the end of the driveway, add a welcoming touch. Install lights in multiple locations for a layered look with maximum curb appeal.
2. Outdoor Lighting Creates a Unified Look
For even more curb appeal, use fixtures in the same style or from the same lighting collection to ensure a cohesive look.
3. Outdoor Lighting Adds Safety and Security
Make sure there's ample light where you need it, especially near doorways, patios and walkways.
How to Choose the Right Outdoor Lights
Depending on the location of where you want to install lighting, there are a number of choices available.
Wall Lights
Best Uses: Porches, Patios, Entryways, Garages
The classic front or back porch light, wall lights can be mounted on virtually any vertical surface. One of the most commonly seen outdoor fixtures, wall lights are a durable and attractive way to brighten your home and the area surrounding it.
Ceiling Lights & Hanging Lights
Best Uses: Porches, Covered Patios
Need more light on a covered porch or veranda? Or don't have room for wall lights? Ceiling lights and hanging lights are the perfect options. Built for damp locations (where they're never directly exposed to rain), these fixtures can be a bright and beautiful addition.
Post Lights & Pier Mount Lights
Best Uses: Walkways, Driveways, Patios
As the name suggests, post lights are fixtures that mount on top of posts. Because they're usually placed in open-air settings like driveways and pathways, most post lights are "wet rated," meaning they are designed to withstand direct exposure to rain and moisture.
The diameter of the post (also called a pole) needed may vary according to design. See individual product detail pages for specific recommendations.
Pier mount lights look much like post lights, but are designed to be installed on top of columns or walls. In some cases, we offer adaptors, allowing you to install post light fixtures atop columns or walls.
Security Lights
Best Uses: Walkways, Alleys, Garages
The best solution for a safe and secure property, motion sensor lights are triggered by movement. Security lights, in particular, offer a bright, flood-like light that helps ward off would-be intruders. A photocell light design is a great option as well. These lights, which are also called dusk to dawn lights, have a sensor that turns the light on automatically at night and then off at sunrise.
However, motion sensor lights can be decorative too. These designs are perfect for high traffic areas as they automatically turn on whenever needed. Read more in the section below.
Landscape Lights
Best Uses: Gardens, Landscape Features
Landscape lighting is a low voltage system separate from the wall and ceiling lights listed above. Path, spot and floodlights can be used in combination to give your property a rich, layered look.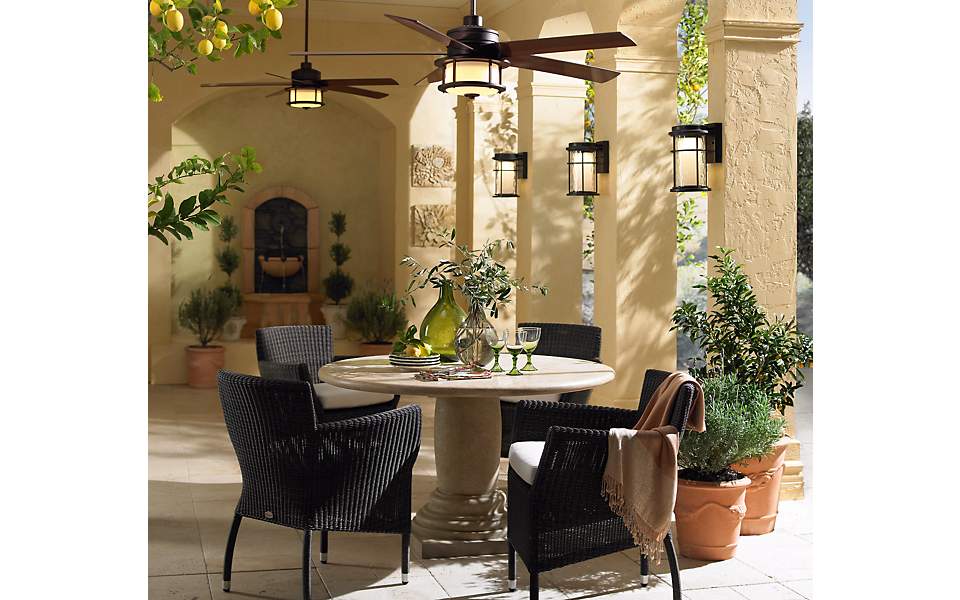 Picking the Right Size Outdoor Lights
Front Porch Wall Lights
This is usually the most visible fixture on your property, so let's get it right! Here's a simple formula:
One fixture? Your light should be approximately one-third the height of the door.
Two fixtures flanking the front door? Your wall lights can be as little as 1/4 the height of the door. Go a bit larger if you have double front doors.
Remember – most consumers choose a light that is too small for their area, especially when it comes to porch lights and patio wall lights. Use the rules above as a guide.
You might find it helpful to cut out a piece of paper the size of the light you are considering purchasing, taping it to your wall, then standing back a distance to get an idea of what it will look in place.
Ceiling and Hanging Lights
Choose a design that is in proportion to the dimension of the covered porch or patio.
Make sure your space is tall enough to accommodate a hanging light.
For lower ceilings, use a ceiling mounted light instead.
Post and Pier Mount Lights
Fixtures may be of different size depending on the number of bulbs.
For post-mounted designs, 84" high (or 7 feet) is standard.
Don't Over Light
A little light goes a long way outdoors. A common mistake most homeowners make is using too bright a bulb outside. A bulb that uses a lower wattage or has a lower lumens output is generally adequate in the dark. We include either bulbs or recommendations with all of our outdoor fixtures to ensure you'll enjoy a beautifully lit (but not glaring) property.
Security Lighting and Dusk to Dawn Lighting
Safety & Security: Are there any dim spots on your property such as seldom-used side walkways or entrances that may attract potential burglars? Security lights are the perfect solution.
Motion Sensor Lights are triggered to turn on by nearby movements, making them ideal as security lights and for high-traffic parts of your property like entries and walkways. The range and angle of motion sensor vary by design.
Dusk to Dawn Lights are fitted with special photo sensors which trigger them to automatically turn on and off with the setting and rising of the sun. They are a hassle-free way to ensure your outdoor lighting is on only when needed.
Motion Sensor and Dusk to Dawn Lights – These designs combine both features in a single fixture. Furthermore, these features aren't just for security lighting. Many types of outdoor lighting offer both dusk-to-dawn and motion sensor operation.
Do You Need Wet or Damp Rated Outdoor Lights?
Most outdoor fixtures are designed for either Wet or Damp location use. Here's the difference between the two:
Wet Rated (or Wet Location) fixtures are designed for use anywhere that's directly exposed to wind and rain. Outdoor wall lights, post lights, and motion sensor lights are wet location rated.
Damp Rated (or Damp Location) fixtures are designed for use in covered patios, pergolas and any place that's not exposed directly to rain and moisture. Outdoor ceiling lights and hanging lights are damp use rated.
More Outdoor Lighting Ideas and Advice
Layers of Light for Outdoor Lighting
Quick Guide: Choosing the Right Sized Exterior Lighting
Create Outdoor Ambiance with Deck Lighting
Outdoor Lighting and Curb Appeal
A Guide to Dark Sky Lighting – 6 Quick Tips