Style Guide: Art Deco Lighting and Decor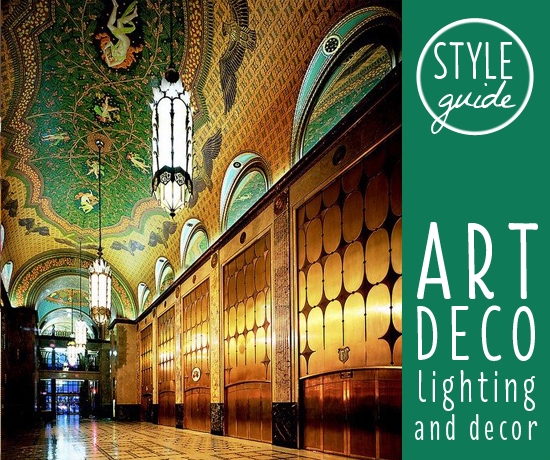 Born in the early part of 20th century, the Art Deco style has become one of the world's most popular and pervasive design looks. Learn the history of this movement as well as how to decorate your home with Art Deco lighting and decor.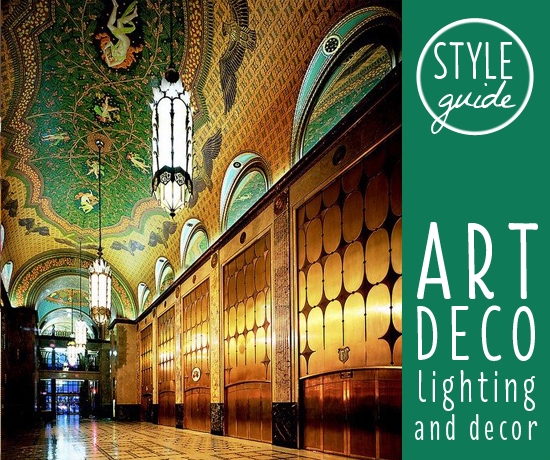 The Roots of Art Deco Style
This article is an exploration of the style of architecture and decor that came to be known as Art Deco. Born in the early part of 20th century, it has become one of the world's most popular and pervasive styles.
Peace, Progress and Prosperity
During the period between the two World Wars, roughly 1920 through 1939, the excitement of the Modern Age prevailed. It was an era of innovation and a future filled with promise. Everything, it seemed, was rapidly changing for the better.
Commercial radio arrived as did canned foods, liquid fuel rockets, hair dryers, and aerosol sprays. Modernized transportation made travel and commerce easier. Office buildings reached ever higher upwards. Interest in ancient civilizations soared with the discovery of the treasures of King Tut.
For the first time, working people had some free time and extra money to spend. They wanted to experience the world in their homes and were willing to pay for it. Consumerism began to take hold.
Creating a Commercial Style
Parisian designers, decorators and architects sensed an opportunity and began "modernizing" traditional styles. Recent fine art movements such as Art Nouveau, Cubism, Modernism, and Bauhaus were incorporated with historical themes and contemporary trends into Art Deco, an optimistic and futuristic design style that would catch on worldwide.
Deco style borrowed liberally from ancient and exotic cultures as well as from Classical Antiquity and nature. Aztec, Egyptian, American Indian, Asian, and African elements all contributed to the deco style.
Hoping to appeal to the growing population of homemakers responsible for home décor purchases, designers used idyllic female figures as a recurring element on lamps and fixtures and graphic art.
Modern society inspired the streamlined, geometric shapes and lines; machine and automobile patterns; stylized gears and wheels; rounded fronts; and fat, crisp numerals and letterforms. New techniques and materials were preferred.
Materials Used in Art Deco Design
Exceptional woods such as Macassar ebony, Brazilian rosewood, and amboyna burl were favored in Deco designs, often inlaid with ivory, tortoise shell and other unusual imported natural materials.
Both precious and common metals were integral to deco style. Steel and forged iron plated with sleek chrome and bronze became glistening accents, hardware and sculpted figures. Elaborate brushed aluminum exteriors graced Deco architecture. Gold leaf, silver and even platinum embellished the most opulent designs.
Deco glass was free-flowing, floral, frosted, mirrored, and multi-colored. Tiffany-style lamps or lacquer-decorated shades sat upon intricate lamp bases on glass-topped furniture. Etched or stained window and door panes embodied deco style. Perfume bottles in geometric shapes and "new" colors flew off store shelves.
Art Deco In and Out of the Home
Innovations in lighting remain one of Art Deco's most important legacies. Torchieres were first used extensively and lamps with night lights lit up room corners. Shades often had deep fringes on the edges, typically featuring a fan or bowl shape. Sales of deco style ceiling lights, desk lamps and wall sconces surged.
Art Deco furniture generally followed one of two directions. One produced designs with a wholly modern, machine made look intended for mass production. The other developed handmade individual pieces, every detail polished by highly skilled craftsmen, made for the very rich.
Home décor items such as wall art posters, sculptures and clocks were popular in deco style, as were jewelry, textiles, and grooming accessories.
Deco architecture brought all aspects of the style together in simplified and streamlined geometric towers and other vertical projections, smooth wall surfaces faced with stone and metal, often in vivid colors and intricate detail. Many dime stores, bridges, post offices, banks, movie palaces, and lavish skyscrapers were built in the deco style.
Graphic artists and illustrators created Deco magazine covers, advertisements and travel posters. Hollywood embraced Art Deco as did automobile, industrial and fashion design.
An Enduring Legacy
The term "Art Deco" comes from the 1925 Paris Exposition Internationale des Arts Decoratifs et Industriels Modernes, where the style was formally introduced to the world. Not until a 1960s Deco revival, however, did the term actually come into use.
Over the years, Art Deco has become one of the most enduring design styles of all time. Its influence can still be seen everywhere. Designers continue to create reproduction items as well as new Deco influenced designs. More subtle expressions are disguised in ad copy as 'contemporary' or 'new modern'.
Decorating with Deco
Although original furnishings can be costly, savvy shoppers can find exciting Art Deco accent pieces at reasonable prices. With reproductions and new designs readily available, it's easy to give a room an authentic Deco flair.
Its perennial popularity is a testament to Art Deco's ability to complement many other design styles. For Art Deco furniture, try a glossy lacquered side table or rounded mirror with an etched design in a Hollywood Regency décor; an Art Deco chandelier or ceiling lamp, rug or framed poster can be a highlight of an Eclectic style room.
Many deco style pieces work well with today's Modern décor. For more inspiration, look for subtle Art Deco influences disguised as 'contemporary' or 'new modern'.
Art Deco remains an enduring part of interior décor. Like any design movement, it may trend in and out of fashion, but Art Deco has proven it will always be in style.
Need Help Going Deco?
Our trained lighting and decor specialists can help you get the look you're looking for. Whether you're in the market for Art Deco lamps, chandeliers or Deco style furniture, contact us today to get started!
Related Ideas and Advice Articles
Style Guide: Decorating with Iron Lighting and Furnishings
Home Decor Trend: Craftsman Style
Style Guide: Tiffany Lighting and Decor
Style Guide: Arts & Crafts and Mission Lighting