Top Questions About Ceiling Fans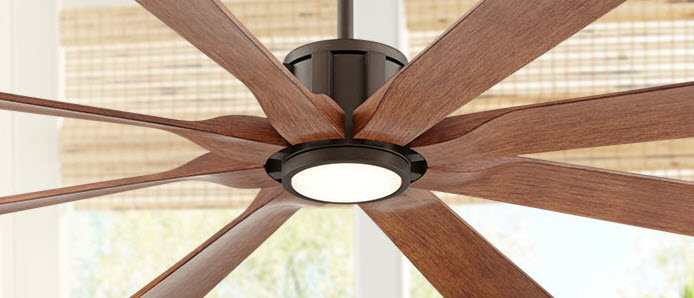 Here are some of the top questions our experts here at Lamps Plus get asked about ceiling fans!
Where can I buy ceiling fans?
Lamps Plus may be known for our lighting fixtures, but we are also one of the premier online retailers of ceiling fans! With a large collection of fans with and without light kits, we carry a wide variety of styles and colors with an assortment of blade combinations. From indoor fans with LED modules, to marine grade outdoor fans, we are certain you can find the right fan for your needs at Lamps Plus.
Browse our complete collection of ceiling fans here.
What should I look for in a ceiling fan?
The two most important, or at least practical, factors when looking into a ceiling fan are the size and the placement. It is customary to have no more than one ceiling fan in a standard room, while offices or more industrial spaces may use several. Most ceiling fans are good for use on ceilings more than 8 feet high, although some may require other heights depending on the size. The width of the blades should also correspond to the width of the room and remain proportional.
Of course, it is also important to find a design and color scheme that you like and which pairs well with your space! Ceiling fans can range from contemporary modern styles, to traditional, to industrial, and more. Each style also includes a broad range of colors, as well as more specific designs. Some have more, or fewer, blades, and others also include light kits. Some of the light kits are add-on pieces for a slight chandelier-like design, which other fans have integrated lights.
For an in-depth look into purchasing a ceiling fan, take a look at our articles on eight quick tips for picking the perfect ceiling fan here and how to buy a ceiling fan here.
We also have a handy article here to help guide you through the process of finding the right sized ceiling fan for larger rooms.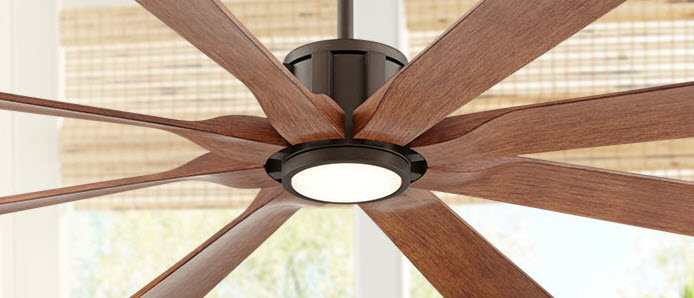 Is it normal for ceiling fan blades to slant downwards?
It is perfectly normal for the blades on your ceiling fan to slant downwards. The blades on many ceiling fans extend quite far from the motor, and they extend without additional support. Most blades are also not too rigid to prevent them from breaking, meaning gravity may pull the ends down slightly. Unless the slant seems intense, there is likely nothing to worry about.
Which way should fans turn in the summertime?
The primary function of a ceiling fan, in any season, is to circulate air throughout your room. While this does not really cool the air, it can help a room feel more comfortable as warm or cold air will no longer be stationary. During the summer months, you should set your fan to rotate counter-clockwise. This will push the air downwards and create a windchill effect as it brushed by you.
During the winter months, set your fan to rotate clockwise. This will pull air upwards, displacing the warmer air that settles near the ceiling, as heat rises. Simply redistributing and keeping the air in movement can make a great difference.
For some more information on how to best utilize your fans during the changing seasons, take a look at our previous article on the subject here.
Is using a ceiling fan more environmentally friendly that using air conditioning?
It is! In the sense that using a ceiling fan can help cut down on your air conditioner or heating use, thereby lowering the amount of electricity your home consumes. Generally, using a ceiling fan can help offset your thermostat by up to four degrees in either direction. Meaning that you can comfortably set your thermostat four degrees higher in the summer, and four degrees lower in the winter. Keep in mind that using a ceiling fan does still use electricity, but it is on part with the electricity used by a standard light bulb. In other words, it doesn't use all that much!
For more information on the energy efficiency on ceiling fans, we recommend this article here.
How do I install a ceiling fan?
Ceiling fans are all hardwired fixtures and, depending on your ceiling height, can be fairly difficult to install. We highly recommend contracting a local licensed electrician to perform the installation, after inspecting the fan for defects. Unless, of course, you are already a licensed electrician. Check out our video below for more tips.
What is a giant ceiling fan price?
Large ceiling fans are more expensive than most fans simply because of their size. But they are not out of reach for most budgets. Prices start around several hundred dollars and move up from there depending on the size and features.
More Ceiling Fans Ideas and Advice
Explore more questions and information about ceiling fans using the links below, or browse our complete collection of ceiling fans here.
How to Buy a Ceiling Fan – A Four-Step Guide
8 Quick Tips for Picking the Perfect Ceiling Fan
Bigger Ceiling Fans for Bigger Rooms
Ceiling Fan Direction Summer and Winter