Style Guide: Tropical Lighting and Design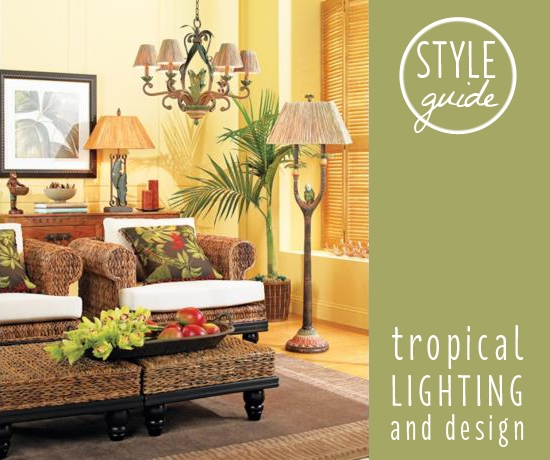 As far as decorating trends go, there's nothing hotter than tropical lighting and decor.
Comfortable and warm, the style relies heavily on natural colors and textural elements to create rooms that are easy on the eyes and full of everyday comfort.
You can go all out and create a tropical decorating-scape, or add select items, such as tropical lighting accents, for a relaxing, comforting paradise in your own home.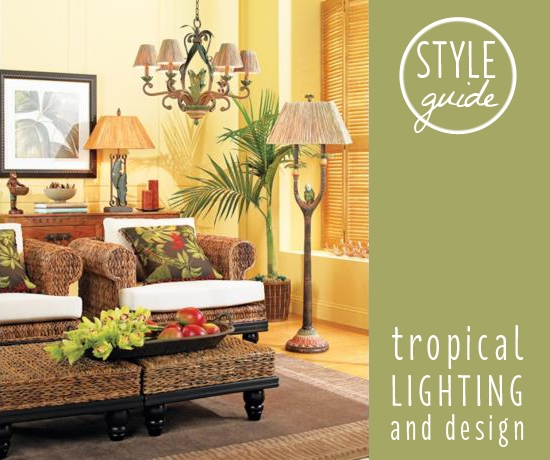 Take a Trip to the Tropics
The Beginning of the Style
The style has its roots in the Hawaiian decorating craze of the 1940s, the high tropical-Havana style of the 1950s, and more recent Floridian and Caribbean decorating flourishes of the 1980s.
Throw in a dash of British Colonial style and natural wood and fiber accents from the Orient, and you have a style that offers something for everyone, no matter what your personal taste.
What Is Tropical Style?
So what shows up in Tropical-themed rooms? Common motifs include the use of tropical flowers (orchids, bird of paradise, hibiscus) in fabric or accent design, or fruits depicted in fabrics, wallpaper and lighting elements.
Animals, from tropical birds and tropical fish to monkeys and jungle cats, are also frequently used.
Tropical furniture and tropical rugs rely heavily on the use of woven rattan, wicker, bamboo and other natural elements.
Accent furniture also tends to be more casual in appearance, with pieces that can be easily mixed with other styles, with the use of teak and lightly stained or lightly distressed woods.
Color schemes are often vibrant and colorful, but can also rely heavily on muted earth tones, greens, beiges and creams.
Lighting with Tropical Flair
Tropical lighting utilizes all these trends, with an emphasis on the playful and the natural. Natural woods, like bamboo and rattan, are combined with wood beads, color beads and other accents to create a relaxed look that's easy on the eye.
Tropical bird motifs, palm fronds or banana leafs and tropical fish are integrated into fixtures for visual appeal and playfulness.
Tropical-themed shades tend to be very casual, and utilize wicker, linens, tropical patterns or raffia grass for texture and accents.
Look for tropical lighting fixtures and tropical lights that use these design elements. Creating a cool, breezy and supremely comfortable tropical look isn't hard if you stick to these decorating guidelines. It's the perfect style for adding a dash of the exotic to your home, while maintaining warmth and livability.
For more tropical style decorating ideas, check out our assortment of tropical floor lamps, tropical style table lamps, and tropical home decor. We also carry a beautiful line of coastal light fixtures that can easily be incorporated into your tropical style decor.
Help with Tropical Design
Our American Lighting Association trained consultants are here to help you with your tropical design project. Use our Lamps Plus store locator page to find a superstore location near you, or contact us for more information!
Related Ideas and Advice Articles
Style Guide: Decorating with Iron Lighting and Furnishings
Home Decor Trend: Craftsman Style
Style Guide: Tiffany Lighting and Decor
Style Guide: Arts & Crafts and Mission Lighting