Under Cabinet Lighting Tips and Ideas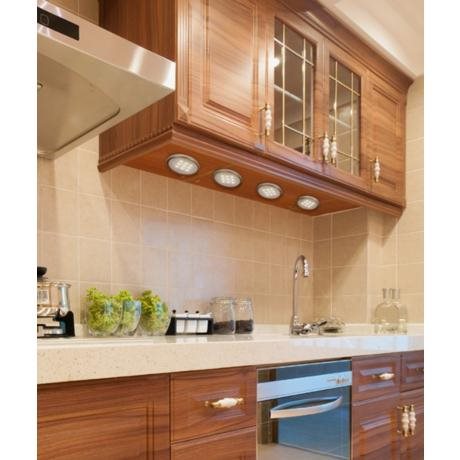 Under-cabinet lighting will brighten any kitchen or work space, illuminating counter tops and offering great functionality and style.
There are many designs for you to choose from, depending on your needs and cabinet or room layout. Best of all, installation of most under cabinet lights is an easy DIY job. Here are some tips and ideas for getting the right lights for your home.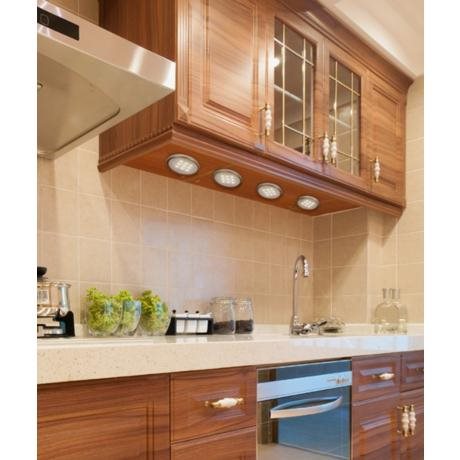 Plug-In vs. Direct Wire Lighting
For starters, consider whether you want plug-in under cabinet lights or direct wire lighting.
Plug-in designs and kits are an easy DIY project and plug directly into any standard wall outlet.
Direct or hard-wired under cabinet lighting offers the convenience of a wall switch, but be prepared for some electrical work to get them in place.
Low Voltage
Most under cabinet lighting is low voltage, meaning that it uses a transformer to step down the line voltage coming from your home's wiring. Transformers are either integrated into the light's design or can be hidden from view.
There are several lighting sources and bulb types to consider.
LED Under Cabinet Lights
Advanced LEDs are energy savers, have a low profile, last for years and are cool to the touch.
Because of these many advantages, there are more and more LED under cabinet lighting designs on the market.
We also carry new LED tape light that can be used for under cabinet applications. This tape light is easy to install and can be cut to fit. It has an ultra-low profile and can even be used it to accent mirrors or other wall hangings. It comes in white light, colors, or color changing strips.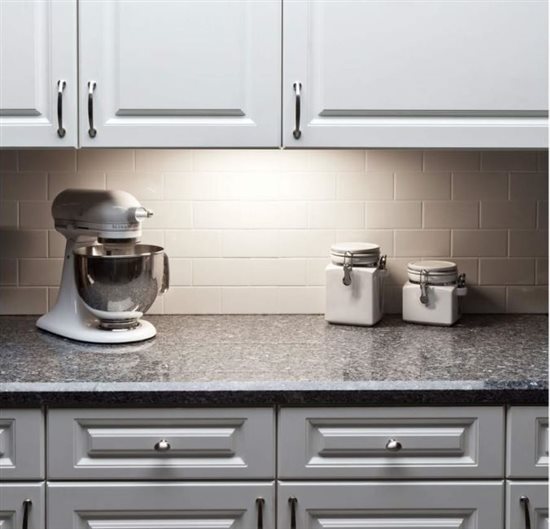 Xenon Bulbs
Lighting with xenon bulbs combines the warm tones of incandescent bulbs with a boost from xenon gas, which intensifies the light and helps prolong the bulb's life.
CFL and Fluorescent
Finally, fluorescent lights are energy efficient but may have a higher profile than other types.
Dimmers
No matter what your choice, consider using dimmers to control your new under cabinet lighting. However, make sure you consult the specifications of the under cabinet lights you want to use with t dimmer. Some LEDs are compatible only with specific kinds of dimmers.
Help with Under Cabinet Lighting
Now you have some solutions to enhance your home and make counter work easier. Need help? Just contact us, or visit a Lamps Plus store near you and we will be happy to assist you!
More Under Cabinet Lighting Ideas and Advice
Under Cabinet Lighting Tips and Ideas
Tips for Lighting Your Kitchen
A Guide to ADA Compliant Lighting
""