Design Trend: Home Library Lighting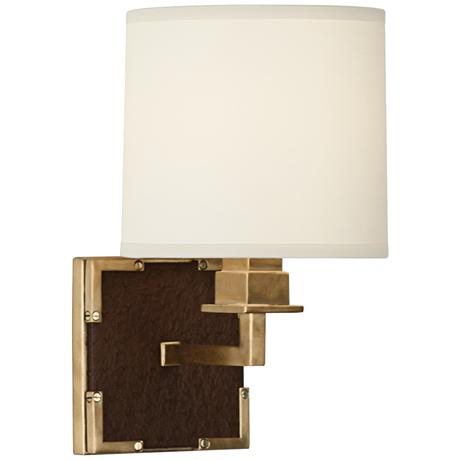 In a world dominated by tablets and electronic books, it's a miracle that people even want to have bookshelves in their homes, let alone use them as a focal point. Thankfully they do and even more exciting is that designers are finding clever and handsome ways to adorn and light them. Lighting in the home library has never been more exciting and several trends are creeping into just about every shelter magazine and blog around. Books create wonderful texture in a room and add an unmatched warmth. Depending on your needs, the new look in libraries today include decorative wall sconces and seductive picture lights.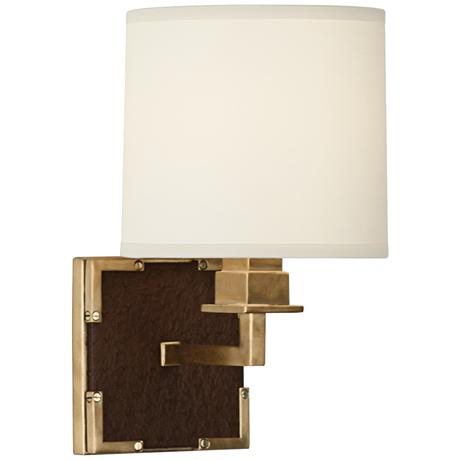 A warm library enhances its bookcase with a handsome sconce, non-direct light from a picture light as well as the cozy fire and candles. Even without the warm glow of the candles, soft lighting and cloth shades bathe this room in a golden hue.
A traditional yet funky library combines study with play. Playful colors keep the room from appearing stuffy.
A masculine wall sconce in a faux ostrich leather evokes everything glamorous about a traditional library.
Neoclassical space functions both as a hall as well as library requiring less direct light to the cases. Bronze-finished wall lights adorn the wall above the shelves to cover double duty: lighting the overall space and offering some downward glow to the shelves.
A country library uses a similar design when it comes to highlighting their bookcases. Bronze finished picture lights are hung not only as functional sources of light, but to create a soft evening glow when the room is used for entertaining.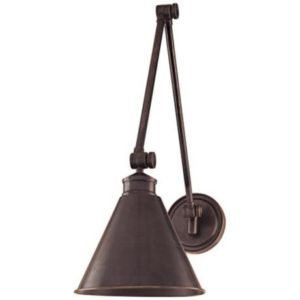 This unexpected bronze-finished swing-arm light can enhance your library cabinetry or even over the bed for reading.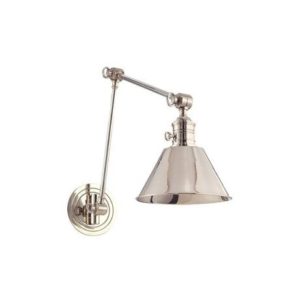 Here is a brighter version of the wall-mounted lamp. This polished chrome swing-arm lamp would be smashing in a white kitchen over the sink, desk or over cabinetry if you have space.
If you don't have room for mounting picture lights, the classic track light still looks good. If you feel your tracks are outdated, there are plenty of updated versions to use.
Spotlights in the ceiling are also another great idea if you don't have enough wall space above your shelves. Don't be nervous to mix contemporary lighting with a traditional interior. This room pulls it off.
Other contemporary ideas for lighting bookcases include pin lights used on every shelf as well as interior shelf rope lighting that creates an illuminated glow on every shelf. The highlight of every library is that you highlight what's important to you, be it books, photos or collectibles.